With the right products and procedures this can be safely done in most cases
Kent starts out the video talking about prevention by using the neck reinforcement kit he has been selling for years. In the case of his own 1990 300SL the neck had not been reinforced and it broke cleanly right in the middle. Fortunately, it happened in his shop when he removed the upper radiator hose clamp! Considering that as well as the cost of a replacement radiator, he has decided to repair rather than replace. The video will walk you through the procedure of repairing a broken neck and "pining" it for safely so there would be no way it could work loose and fall off in the future.
Repairing a Broken Plastic Upper Radiator Neck - On Demand Video
$16.99
Get it for Free! This is available as a free add-on item. Review the product details for bundle options.
On Demand Video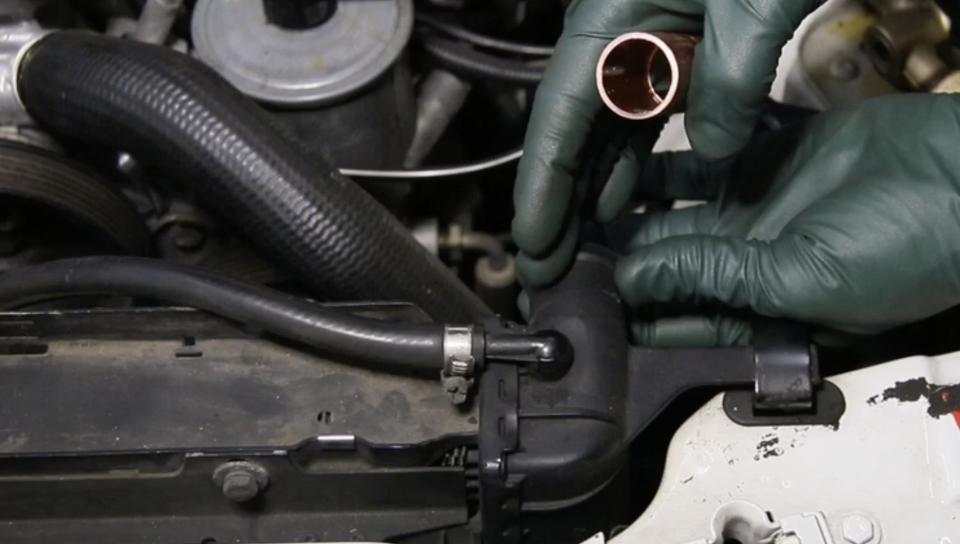 Product Details
Video Preview:
The video covers the following:
How to reinforce the next before it breaks
How to modify the copper tube if you are repairing a broken neck
The primary difference it our two kits
How to safely pin the copper tube into the tank for security
Prepping the copper tube and plastic for application of epoxy
Trial fitting the parts
Drilling and installing the safety pins
Mixing the epoxy
Applying the epoxy properly
Installing the tube and neck and securing in place
Cleanup
Showing finished job and final comments
PLEASE keep in mind that all broken necks may not be repairable. If the neck broke in multiple pieces it means the plastic has deteriorated so much that you should not try to glue it back together. Some plastic tanks may be so old and "rotten" that repair should not be tempted. We have never seen a lower neck crack or break. That means that heat (which rises) is a key element in the deterioration of the plastic. 
Total Run Time: 23:39
NOTE: This video is included free when you purchase our broken radiator neck repair kit. See related products below. 
---
How to view this on-demand video:
Once you complete the purchase of this video you will be able to view it immediately when you are logged in and on your personal account page (click on My Account). The video(s) will show up under My Video Manuals. The video is NOT downloadable to your computer or mobile device, but you will be able to view it anytime, from anywhere and from any device as long as you have internet access and you are logged in to your account at mercedessource.com.
Important note: This video manual may or may not include all the information you will need to troubleshoot and/or repair your specific problem/s. Please read the full description carefully to determine if this video is applicable to your year and model and contains the information you are looking for. If not, please refer back to our "Solutions Finder" and enter your chassis number and the specific problem you are having to see if we offer a solution.
Related Products:
---