A MUST HAVE when working on 126 front suspension - Handy for other work as well.
This is a handy compact winch pulling tool. Not designed for lifting. It is a must have if you plan to replace the guide rods or guide rod mounts (brake control rod bushing) on any 126 chassis from 1981 to 1991 300SD 380SEL 500SEL 380SEC 300SDL 350SDL 300SE 300SEL 420SEL 560SEL 560SEC. These rubber mounts are notorious for failure. I consider them the most common wear point on the 126 front suspension that can result in clunking sounds and fore and aft movement in the front end when applying brakes.
Suspension Repair - Small Ratcheting Cable Winch Puller
$26.50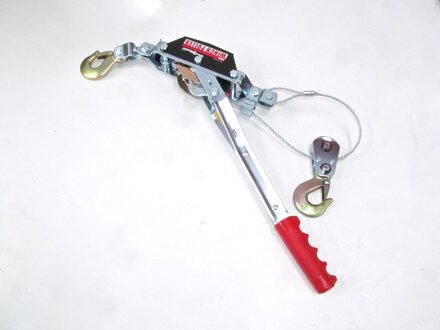 Product Details
PLEASE NOTE: No instructions for using this tool on suspension work are included. Instructions come with our complete repair kit shown below:
If your 126 sedan or SEC coupe is making front end clunking noises when you brake or go over bumps at slow speed you most likely need to replace the bushings where the lower front suspension guide rod attaches to a body sub frame casting. The purpose of the rod is to prevent the front suspension from moving aft under heavy braking. The purpose of the rubber bushing is to isolate vibration and road noise from the suspension attached to this rod. When the ball joint inside the bushing starts to wear out you will begin to hear that common _clunking_ sound. If has seen this condition quite often on 126 chassis Mercedes, even on cars with less than 150,000 miles. This parts seems to be one of the first to wear on the front suspension of these cars.
Below is a picture of a loose ball joint inside the mount bushing. Broken ball joint rubber seals or rust around the joint are common signs the part needs replacement. Note rust area in picture.