79k miles. Fits all 123 chassis 1977 to 1985 - common source of oil leak under dash - with written and video instructions
ONLY ONE LIKE THIS. Oil leaks at the oil pressure gauge are becoming an increasing problem on the 123 chassis, particularly on the 1977 to 1985 diesel models. You will discover it when you see wetness at the bottom lip of your instrument cluster or you find oil leaking on your feet or legs! This one was removed from an instrument cluster with only 79,000 miles on it so you know it is tight and will not leak. Super clean.
W123 Oil Pressure Gauge Actuator with Free Instructions and Tool
$239.00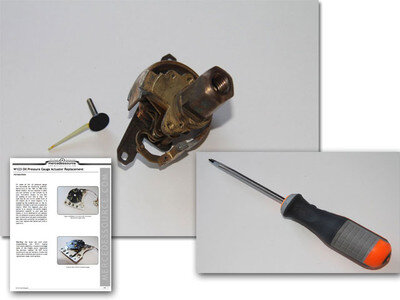 Product Details
The leak may be due to the number of miles these cars are being driven. The oil heat and vibration from the engines is weakening the soldered seal on the bi-metallic chamber tube that actuates the needle. When this happens your only option is to replace the entire engine instrument (specific to your year and model) or as an alternative, just replace the oil pressure actuator assembly (this part is common to all years and models). We will probably never find another new one!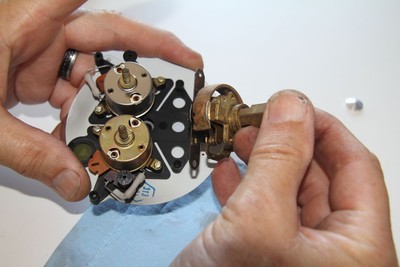 This kit includes a good used and tested oil pressure actuator, a spare needle should you damage yours removing it, PDF instructions for removing and replacing the actuator on the engine instrument, and a special tool to aid in the removal of the fragile needle.
PLEASE NOTE: Instructions now include removing the instrument cluster from your dash (video)  You may also want to consider purchasing our dash removal tools which are shown in the video instructions make the job much easier. See below.
If you already have an extra gauge and just need the instructions and special tool we do offer those separately as a kit. See related products below or use our search box.
_______________________________________________________________________________
How to view the PDF digital instructions:
Once you complete the purchase of this product you will be able to download the digital instructions immediately when you are logged in and on your personal account page (click on My Account). Any PDFs will show up under My PDF Manuals. You will be allowed three downloads, so please save the file on your machine for backup.
_______________________________________________________________________________
Related Products:
---