Fits all 123 126 201 124 129 140 chassis 1977 to 1995 plus other models listed below
This kit fits many models of Mercedes from the late 1970s up into the late 1990s (see list below). Pump problems abound and when you change the pump you are much better off to change the old rubber seal and brittle washer braided hose at the same time. If your vehicle takes two pumps order two (2) kits.
Windshield Washer Squirter Pump Replacement Kit
$29.95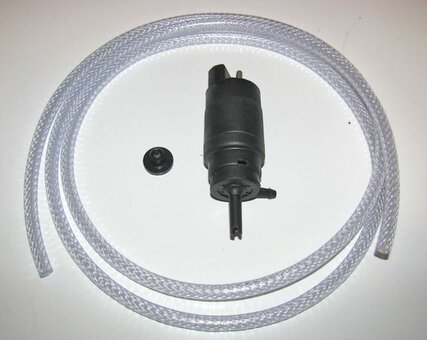 Product Details
Our kit comes with the following parts:
New front window washer pump at reservoir tank
Windshield washer pump sealing grommet
2 Meters of quality reinforced original style washer hose ( may come cut in two 1 meter lengths)
This kit does not contain instructions but installation is straight forward. The old parts can be sometimes difficult to remove because of aged and hardened plastic and rubber. Use a box knife to slit the old hose when removing. All the new parts will go on easily, especially with the new hose.
If you are also have problems with your squirters we offer the following for some models. A bad check valve can cause the pump to run a long time before anything squirts! Plugged nozzles cause all manner of weird spray patterns.  
Mercedes Windshield and Headlight Washer Squirter Pump One Way Check Valve

Fits 107 123 126 201 124 chassis 1977 to 1995 models listed below

Brand new Bosch windshield washer system checkvalve. If it is taking a long time to get the windshield or headlight squirters to squirt this check valve may need replacing. Old valve nipples are easy to break off so if you are replacing the pump and hoses you may want a new valve on hand.
Mercedes 123 Chassis All Models Windshield Washer Nozzle - Sold Individually

Fits all 1977 to 1985 240D 300D 300TD 300CD 280E and 280CE

If your windshield pump is running and the squirter nozzles are not working properly, you may need replace them with new VDO / Siemens parts. There is nothing like seeing where you are going! Sold individ
This pump replacement kit fits the following models from 1977 on:
Mercedes-Benz 190D
Mercedes-Benz 190E
Mercedes-Benz 230
Mercedes-Benz 240D
Mercedes-Benz 260E
Mercedes-Benz 280CE
Mercedes-Benz 280E
Mercedes-Benz 300CD
Mercedes-Benz 300CE
Mercedes-Benz 300D
Mercedes-Benz 300E
Mercedes-Benz 300SD
Mercedes-Benz 300SDL
Mercedes-Benz 300SE
Mercedes-Benz 300SEL
Mercedes-Benz 300SL
Mercedes-Benz 300TD
Mercedes-Benz 300TE
Mercedes-Benz 350SD
Mercedes-Benz 350SDL
Mercedes-Benz 380SE
Mercedes-Benz 380SEC
Mercedes-Benz 380SEL
Mercedes-Benz 380SL
Mercedes-Benz 380SLC
Mercedes-Benz 400E
Mercedes-Benz 400SE
Mercedes-Benz 400SEL
Mercedes-Benz 420SEL
Mercedes-Benz 450SL
Mercedes-Benz 450SLC
Mercedes-Benz 500E
Mercedes-Benz 500SEC
Mercedes-Benz 500SEL
Mercedes-Benz 500SL
Mercedes-Benz 560SEC
Mercedes-Benz 560SEL
Mercedes-Benz 560SL
Mercedes-Benz 600SEC
Mercedes-Benz 600SEL
Mercedes-Benz 600SL
Mercedes-Benz CL500
Mercedes-Benz CL600
Mercedes-Benz E300
Mercedes-Benz E320
Mercedes-Benz E420
Mercedes-Benz E500
Mercedes-Benz S320
Mercedes-Benz S350
Mercedes-Benz S420
Mercedes-Benz S500
Mercedes-Benz S600
Mercedes-Benz SL320
Mercedes-Benz SL500
Mercedes-Benz SL600