The key is in using the right products and techniques. Let Kent show you how.
Without the right products, trying to clean a real dirty interior is difficult if not near impossible. In many cases (particularly carpets) promised cleaners just do not seem to work. Along with using the right chemicals / cleaners application is very important. Being able to spray just the right amount of cleaner EXACTLY where you want it is the KEY! 
Problem & Solution
Common among these chassis:
R107
W108 W109
W110 W111 W112 Sedan
W111 W112 Coupe
W113
W114
W115
W116
W123
W124
W126
R129
W140
W201
W202
W208
W210
Enter Kent's favorite tool for detailing - garden pump sprayers. These sprayers were originally designed for lawn and garden use. They can virtually spray any chemical and put it precisely where you want it.  The amount of pressure you pump into the bottle will determine the volume of spray and the adjustment on the nozzle can vary both the width and the pattern of the spray.  If you have ever tried to spray weeds with a hand pump sprayer you know how tired your hand can get!  This is the same when detailing a car.  Single hand operated pump sprayers will save you BOTH time and money (less chemical used) whether you are cleaning your car or your house!
Kent recently gave one to his mechanic to take home.  His whole family was so impressed with how it worked that he had to get four more.  He was even able to get his kids to help with house cleaning because the bottles made it so easy and fun!  Don't be surprised if your significant other wants to steal these away from you.
Recommended Chemicals: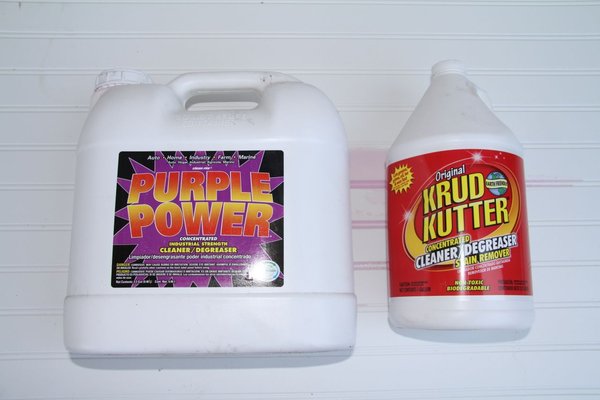 There are two chemicals I have found work the best (and are the least toxic) when detailing a car. Purple Power has proven to have almost magic qualities when it comes to detailing vinyl and carpets. I recommend you use a small amount and do a test or a corner of the material before you use it full strength.  On some cheaper material and fabrics it can remove the color.  I usually only use it full strength on heavily soiled and stained carpets.  For most vinyl, including seats and door panels I use a 50 percent mix of Purple Power and water.  It can dry out vinyl if you use too strong a mix. Just use the minimum needed to get the job done.  Letting Purple Power soak for 5 minutes before you begin scrubbing will really speed the cleaning process.  WARNING:  Purple power should NEVER be used on leather.  It can remove the color and dry out the leather underneath.
I use both Purple Power and Krud Kutter for detailing the engine compartment.  Purple Power works best on the worst stains but Krud Kutter stays wet longer and allows you to let it soak into the grease and grime better.  Use either one full strength inside the engine compartment.  I like using the pump sprayer because I can put the cleaner right where I want it.  It may take more than one application. If possible let the Krud Kutter soak for 15 minutes before you begin scrubbing with a brush.  I use fresh water in one of the sprayers or even a larger one gallon sprayer to rinse the engine compartment (rather than garden hose) as this will also allow you to put water only where you want it! You can actually clean an engine using less than one gallon of water. 
When cleaning vinyl - spray it on, let it soak for a few minutes then use a VERY SOFT brush to scrub. Then rinse off with water immediately before it can dry.  Only use a diluted strength of Purple Power when cleaning door panels and seats. 
On some cars with non-removeable carpets you will have to remove the seats to really get the carpets clean. When cleaning carpets only spray in just the amount of cleaning solution you need. If you spray too much into the carpets you will have a lot more work getting it out.  The best way to remove the cleaner and the water from the carpets is to use a wet or dry shop vac.  You will need a heavy duty unit.  You will know when you have gotten all the dirt out as the water will start to look clean when you are sucking it up with a shop vac.  Set the carpets outside to dry.  If you can not pull them out, put a fan blowing on the carpets to speed the drying process.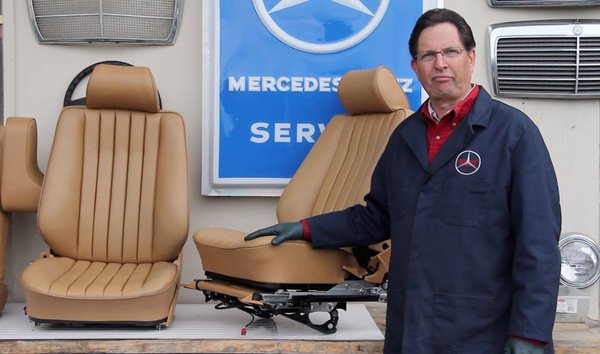 Be sure to watch Kent's 4 part on demand video series on extreme detailing. See related products.