NON TURBO MOTOR MOUNT KIT FITS THE FOLLOWING: 123 chassis 300D 300CD 300TD with 5 cylinder NON Turbo engines, from 1977 to 1981. Have you noticed your Mercedes diesel sedan is recently shaking more at idle. Maybe you are noticing new vibrations that were not there before. You may have also noticed the engine makes some clunking noise when you shut it off. When was the last time your rubber motor mounts were changed. Diesels are especially hard on rubber mounts because of the excessive vibrations associated with the type of engine. If they have not been changed in the last 8 years then they most likely should be.
123 Chassis 5 Cylinder Non Turbo Diesel Motor Mount Kit
$53.50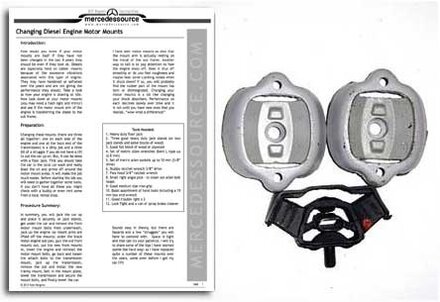 Product Details
Even if they appear to look ok they may have hardened or softened over the years and are not giving the performance they should. This set includes both front engine mounts (2) and one rear transmission rubber mount. If you are thinking you do not know how to tackle the job I have the solution. I am selling this mount kit with complete instructions on how to install them. You will be very happy with the lasting results of this inexpensive preventative maintenance repair. Enjoy the ride!
_______________________________________________________________________________
How to view the PDF digital instructions:
Once you complete the purchase of this product you will be able to download the digital instructions immediately when you are logged in and on your personal account page (click on My Account). Any PDFs will show up under My PDF Manuals. You will be allowed three downloads, so please save the file on your machine for backup.
_______________________________________________________________________________
Look below to check out our special tool for help in removing and replacing these motor mounts. A must have to save your sanity!
ALSO CONSIDER: Many non turbo models through 1981also have a center rubber anti torque mount sitting underneath the engine and behind the oil pan. Check your engine. You may also want to order this part. No instructions included by straight forward to install.
616 617 Diesel Anti Torque / Vibration Rubber Engine Mount
Mercedes 123 126 Chassis H.D. Hex Socket for Motor Mount Removal both are listed below.
Check out this video and find out why it's important to change your motor mounts!
Related Products:
---