For 1973 to 1980 107 and 116 Chassis, 1973 to 1976 114 and 115 Chassis SEDANS, and 1977 to 1980 123 Chassis
These five page step-by-step illustrated instructions will walk you through the correct procedure of removing your old worn and cracked door lock rubber diaphragms from the actuator housing and replacing them with new ones. These are procedural instructions only. They do not include the parts you may need and they DO NOT explain how to remove the door panel and take the actuator out of the door or trunk.
1973 to 1980 Vacuum Door Lock Actuator Rubber Diaphragm Replacement Instructions by Kent Bergsma - Download
$9.95
Get it for Free! This is available as a free add-on item. Review the product details for bundle options.
Product Details
This procedure can be a little tricky if you have not done this job before.  Some have reported on some forums that you just can not get the old diaphragms off and that you should buy new units from the dealer. Once again, don't believe everything you read on the forums... We are selling the instructions separately since those who have done it before will just need to buy new rubber diaphragms and don't need to pay the extra for instructions.
114 and 115 chassis 1973 top 1976 280 280C 240D and 300D had single element actuators that only had two diaphragms as shown below. You can see in this picture how easily they crack with age. Once one of them cracks like this your entire door lock system will not work - as vacuum can no longer be built up in the system. WARNING: Our diaphragms will NOT work on 114 COUPES.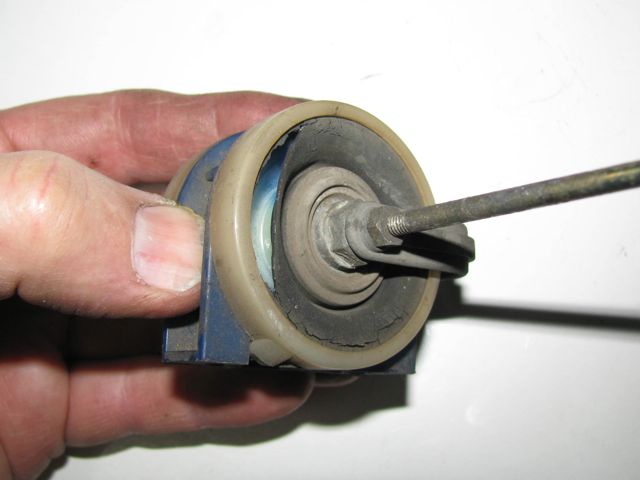 116 chassis 280S 280SE 350SE 450SE 450SEL 6.9 and 300SD as well as the 107 chassis 350SL 450SL and 450SLC and the early 123 chassis 240D 300D 300CD 300TD 280E and 280CE all had twin element actuators in the doors that require 4 rubber diaphragms per unit. Here is an example of a unit removed from an early 123 chassis:
TO PURCHASE REPAIR PARTS: Rubber diaphragms can be purchased in a kit of 4 that includes these instructions. Look below to order.  They can also be purchased individually. Look below to order single diaphragms without instructions.
---
How to view this on-demand Manual:
Once you complete the purchase of this manual you will be able to download it immediately when you are logged in and on your personal account page (click on My Account). The PDFs will show up under My PDF Manuals. You will be allowed three downloads, so please save the file on your machine for backup.
Important note: This PDF may or may not contain all the information you will need to solve your specific problem. Please read the description carefully and make certain it applies to your particular Mercedes. If you are not certain please contact us first. Due to the nature PDF download manuals or instructions we can not issue a refund if you purchase in error or assume it contains information it does not. Please keep in mind that no follow-up technical support is implied or offered after purchase.
Related Products:
---