Auto function is lost but at least you can adjust hot and cold manually without having to spend big $$$$$
FITS THE FOLLOWING: 116, 107 and 123 Chassis up to 1980 ONLY with heater servo, including the 450SL 280SE 300SD 300D 240D. For use to convert 1977 to 1980 automatic climate control servo to a manual system. If your heat has failed again and you do not want to spend another $600 for a climate control servo and amplifier maybe it is time to just convert to a manual system. It will not be as nice as the original automatic system, but at least you will have heat when you need it
1977 to 1980 107 116 123 Chassis Climate Control Servo Bypass Conversion Kit
$59.95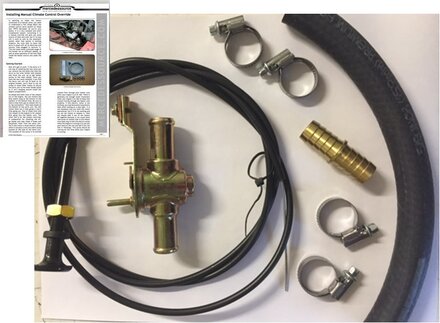 Product Details
This kit now comes with a control valve, hose section, splice fitting, four hose clamps, a 5 foot poly coated control cable and complete PDF instructions on how to properly install this kit yourself.
PLEASE READ CAREFULLY: If you are planning to make our conversion to a manual valve, you need to understand a few things about the climate control servo system on these late 1970s Mercedes. As you are already aware, it is a very complex and often troublesome system. My kit is not a cure all, nor will it solve all the problems you could be having with your system. Converting it to a manual override will give you restored control of heat and cold. You will be able to turn the heat on in the winter and turn if off in the summer. You can regulate heat by partly closing the valve and using the different heater fan motor speeds. If you are using air conditioning then you will lose the automatic function of this as well. If your climate control panel is malfunctioning you may have to wire a separate switch directly to the AC compressor to turn it on and off. No instructions are included on how to get your AC working. Since the AC with no longer cycle automatically the only way you can control the amount of cold air will be to cycle it on and off or to add heat to keep the temperature where you want it.
If your system is plagued with vacuum leaks, then you may not even be able to get the lower fan speeds to work or the flap valves in the heater box to open and close properly. These are sometimes very difficult to find and repair and we are not able to lend assistance with these type of repairs. Our kit requires you to leave the servo in place with all its electrical and vacuum lines plugged in. This will allow continued usage of the blower fan at the lower fan speeds. Without proper vacuum supplied to the switch panel these two lower speeds will NOT work. The replacement valve is installed below the servo and hot water is routed through it instead of the servo. This will eliminate any coolant leaks you have been having through the case of the servo. The push-pull cable supplied with the kit can be routed inside the car near the dash, thus allowing you to adjust the valve for more or less heat while you are driving. Operation might seem a little crude, but you will not be stranded in the middle of winter without any heat as you may have experienced in the past. One more thing that is important. Just forward of the servo unit is a small electric water pump. This pump keeps coolant moving through the heater core when your car is idling. This keeps the temperature from dropping inside the car while you are waiting at a stop light. Make sure this pump is working. Unplug it and apply a 12 volt power source directly to see if it will run. If it is not working order a new one from us when you order this kit. Look below to order this electric pump. It will allow you to control the heat better. For those of you who have had to pay the change the servo a few times only to have it fail again - I do feel your pain!
_______________________________________________________________________________
How to view the PDF digital instructions:
Once you complete the purchase of this product you will be able to download the digital instructions immediately when you are logged in and on your personal account page (click on My Account). Any PDFs will show up under My PDF Manuals. You will be allowed three downloads, so please save the file on your machine for backup.
_______________________________________________________________________________