SPECIAL ORDER ITEM -- ALLOW UP TO ONE WEEK FOR SHIPPING!!!!
For US Models 116, 107 and 123 1977 to 1980 with Automatic Climate Control (Vertical Push Button Panel)
ACC II Climate Control Servo Replacement - Modern Electronic Upgrade
$599.00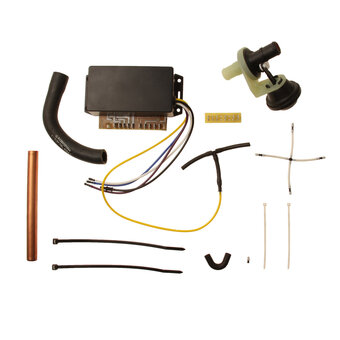 Product Details
PLEASE READ CAREFULLY BEFORE ORDERING:
1. In most cases this conversion kit is only going to work if you have a loved and well-cared-for Mercedes that has had the original climate system working in the past. It is ideally suited if you have recently had a servo failure and would like to install a more reliable system.  IF you have a tired, beat up / unloved Benz with old rotten vacuum lines and hoses and multiple leaks in the vacuum system then we do not recommend your order this upgrade. It will not work if you do not have a strong and leak-free vacuum system, a good working switch panel and temperature sensor, and a heater blower motor that is not worn out!!!
2. Installation instructions, technical advice, and warranty are offered directly from the manufacturer. They have great technical publications and instructions, good online help and they offer a direct one-year replacement warranty. They have vacuum diagrams that you can download from their website.  How to access all this information as well as a manufacturer's installation manual is included with the kit. It is easy to contact them for any help you need. We are not able to offer technical support.
The cost is very comparable to a replacement rebuilt servo when you consider the fact you do not have to buy a new amplifier ( you almost always have to replace the expensive amplifier when you replace the servo. No behind glove box mount amplifier is needed when you install this new system.
This is a special order item. May be a few days shipping delay. No expedited shipping. This is a direct replacement for that large troublesome electro/vacuum climate control servo on all those early automatic systems. That includes the 1977 to 1980 107 Chassis 450SL and SLC, 1977 to 1980 116 chassis 300SD, 280SE/L, 450SE / L and  450SEL 6.9, 1977 to 1980 280E 280CE 300D 300CD and 300TD. Converting any of these models requires you to remove the amplifier and the servo.. A vacuum-operated heater control valve (similar to the one in the 201 chassis) is installed in place of the servo. An electronic control box is installed to regulate the operation of this new heater valve in relation to automatic feedback that comes back through the control panel and temperature sensor. That is why it is so important you understand your original system has to be in good shape for this unit to work properly. 
I have installed this unit in my personal 1979 300SD and I am very happy with it.  Response time is faster than the original servo and temp seems to hold more consistently. To see my video on the problems with the early climate control and to view this unit installed in my car. CLICK HERE. 
How do you know if your Mercedes has this type of climate control system?  It must have a center climate control switch panel like the one you see below where the buttons are vertical (go up and down)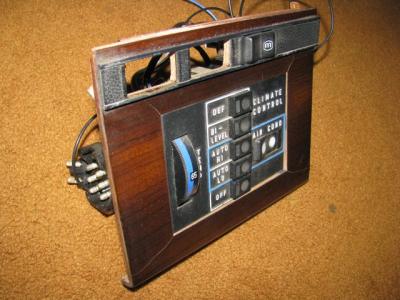 I have installed this unit in my personal 1979 300SD and I am very happy with it.  Response time is faster than the original servo and temp seems to hold more consistently. Here is a picture of how it looks installed. Very clean and neat!
If you want to learn more about this first-generation climate control system and how to troubleshoot the key components be sure to check out Kent's two-part on-demand video series. ( See related products).
Related Products:
---