Late W116 and Early W126 280SE, 450SEL, 300SD, 380SEL, 500SEL only during the years listed. These DO NOT fit the W 126 SEC coupes.
These can really help your old Benz stop quicker and smoother. If the calipers have not been changed in the last 15 years you can almost guarantee leakage and or seizing pistons that can lead to overheating damage. These fit all the desirable 300SDs from 1978 to 1985 as well as the others listed. This set of left and right calipers comes loaded - meaning with pads. The pads are premium ceramic for better stopping and a LOT less brake dust on your alloy wheels!!! Along with the pads we include free brake pad grease that blue thread locker. 
1978 to 1985 300SD Plus Others Rebuilt LOADED Front Brake Calipers.
$268.00
Sale
$227.50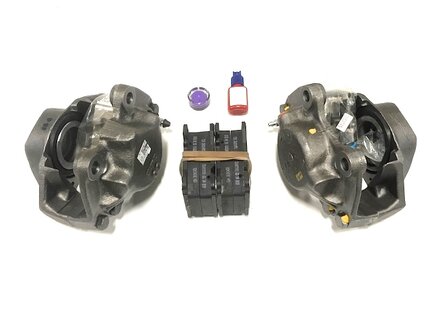 Product Details
If you need full instructions you can purchase Kent's brake systems manual listed below: We also suggest replacing the flexible brake hoses and flushing the system with new DOT4 brake fluid.
Related Products:
---