Fits 115 and 123 Chassis 220D 240D from 1968 to 1983. If your 4 cylinder diesel has more than 200,000 miles on it without any major work, it most likely needs new valve stem seals. These rubber seals get worn and brittle with age and when they do oil can move down the valve stem and into the combustion chamber, in turn, causing excess smoke and oil consumption.
4 Cylinder 220D 240D Diesel Valve Guide to Stem Seal Replacement Kit - 8 Seals
$52.95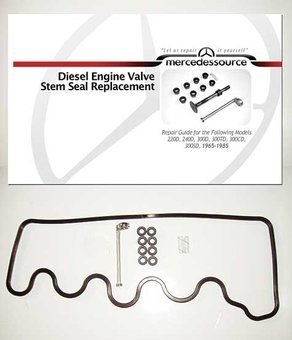 Product Details
The good news is you can do this job without taking the cylinder head off and you do not need to use compressed air as you would with most gas engines. You don't even need to remove the camshaft. My stem seal kit includes clear step by step illustrated instructions along with my special press tool to keep from damaging the new seals during installation. . We do sell individual valve locking nuts ( see related products below ) in case you should happen to damage one of yours trying to get it loose.
This is an important job you can do successfully yourself on your own mature diesel engine. If you are planning to replace your timing chain this is a job you should do at the same time as you will already have your engine set up to do both. If your oil consumption is up and you are experiencing increased engine smoke especially at cold startup it is time to think about replacing these seals.
When replacing your valve cover you may need wave washers. See related products below to order.
BONUS: Free video included on how you can permanently repair the OM 616 and OM 617 very common and pesky valve cover gasket oil leak​
Related Products:
---