For all 4 and 5 cylinder diesel Mercedes 1969 to 1985 ( Except 190D)
Is your diesel suffering from hard brakes, poor or no engine shut off, climate control problems, or even funky transmission shifting?? Since the components that control these functions on most models are controlled by vacuum, you have to start troubleshooting these problems at the source - which is at the vacuum pump. If your engine is not putting out the right amount of vacuum or there are leaks in the system - all of the above symptoms could drive you crazy.
615 616 617 Diesel Healthy Vacuum Exam Kit
$44.95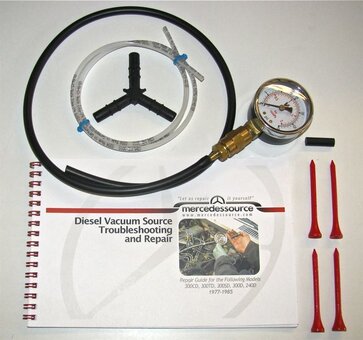 Product Details
This kit puts all the items you need at your fingertips to help you find if you vacuum pump is putting out the right amount of vacuum and if there are leaks in the system that are pulling vacuum away from where it should be going.
Our Step-by-step illustrated Diesel Vacuum System Troubleshooting manual that covers vacuum pump output, isolating and closing off leaks, engine compartment vacuum routing, engine shutoff, brake booster testing.
Quality 30 inch of HG gauge to measure vacuum output and isolate leaks
One meter of hard plastic replacement vacuum line
24 inches of rubber vacuum hose
Rubber Y connector
One vacuum hose plugs
4 golf tees to plug off hoses going to components to help isolate the source of the leaks.
Once you isolate and repair your vacuum pump output and source issues you may still have other problems that you will need to fix. The manual included with this kit does not cover specific issues with your vacuum door locks, climate controls, or vacuum related automatic transmission shifting problems. For information on fixing vacuum door locks use our solutions finder. Note: You will need a vacuum hand pump tester to properly repair door lock leaks. 
For transmission shifting problems (some of which can be vacuum related) use our solutions finder.
Related Products:
---