Basic manual on vacuum output and testing. Does not cover all things vacuum. See description
Applies to 240D 300D 300CD 300TD 300SD Diesel This guide is written specifically for owners of 123 and 126 diesels from 1977 up to 1984. There are some sections that apply to the 115 and 116 chassis but it is not specific to those models. For the 1985 (and some late 1984 California models) with trap oxidizer it does cover testing the vacuum pump and other basics but does not cover specific vacuum hose routing and connection issues for these complex models.
Diesel 616 617 Vacuum Source Troubleshooting and Repair - by Kent Bergsma
$19.75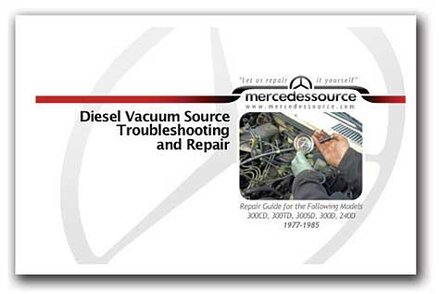 Product Details
This manual covers understanding how the vacuum system works, common symptoms of trouble, possible causes, and testing and repairing the problems. Deals mostly with issues from the firewall forward like testing the vacuum pump, repairing shutoff problems, finding leaks, etc. It only gives a quick overview of the vacuum locking system (this subject is covered more thoroughly in my vacuum door lock troubleshooting guide). It does not cover the vacuum climate control system under the dash nor does it offer advanced vacuum diagrams (I do include a vacuum diagram forward of the firewall for the turbo 5 cylinder engine to 1984 and the 1980 to 1982 240D). Learn the tricks on how to fix that annoying shut off delay problem, hard brake pedal action and hard shifting, as well as other vacuum related troubles. 50 pages in length and loaded with pictures and descriptions.
we have Vacuum diagram schematics posted on our website for 1980-1985 Diesel engines for your information. Here is a link:
https://mercedessource.com/problems/vacuum/determining-correct-1980-1985-diesel-vacuum-system-hose-and-line-routing
For you diesel automatic transmission owners: If you are having a hard time getting your transmission to shift smoothly one of the first things you should diagnose is your engine's vacuum system. Bad vacuum will equal hard and delayed shifts. Both the VCV valve and the transmission modulator rely on strong vacuum to operated properly. 



Related Products:
---