Rotate Engines on 220D 240D 300D 300CD 300TD 300SD 300SDL and all V8's from 1970 to 1991 - Extends to 18 inches long!
This is Kents new favorite ratchet wrench for turning engines over during service and repair. There are a number of maintenance procedures that require you rotate the engine over by hand. This would include timing chain replacement and timing, injection pump timing and replacement, valve stem seal replacement, valve guide rails and camshaft replacement, front crank seal replacement, transmission removal and replacement, or any other procedure that requires engine rotation. This ratchet also works when feeding new timing chains into the M116 and M117 V8 engines, but Kent recommends an easy modification to add some length to the wrench. This modification makes it very easy to turn the engine over smoothly and precisely. Watch the video for more details. 
Engine Crank Rotation Adjustable Length 1/2 Inch Drive Ratchet Wrench
$29.50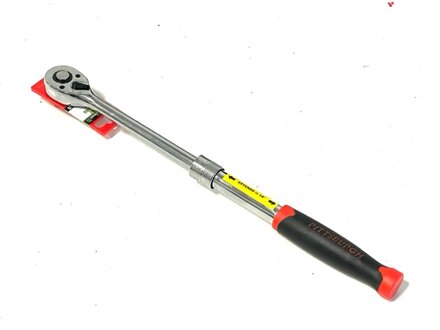 Product Details
The most precise way to rotate the engine over by hand is to place a large socket on the front crankshaft bolt, attach a long ratchet wrench, and rotate the crank. The longer the wrench handle the more precise the movement. NOTE: It is possible to rotate some engines by tightening the power steering pump belt and rotating the pulley nut on the front the pump. When using this method you may have to remove the fuel injectors (diesel) or spark plugs (gas) in order to get consistent and precise movements of the crankshaft. It can be very frustrating to have the belt start slipping just when you are trying to align the engine on TDC. Thus, I have always preferred the crank bolt method.
Almost all diesel engines from the late 1960's up to the early 1990's have a 27mm head bolt on the front of the crank. Some of the older gas engines also use this size bolt. This will require either a  27 mm or 1 and 1/16 inch socket. 
You can see the difference in short versus fully extended below.  You can adjust it to lock in place in a number of positions and count on it to stay locked!!! Sockets are shown for reference purposes only. Note color is now red.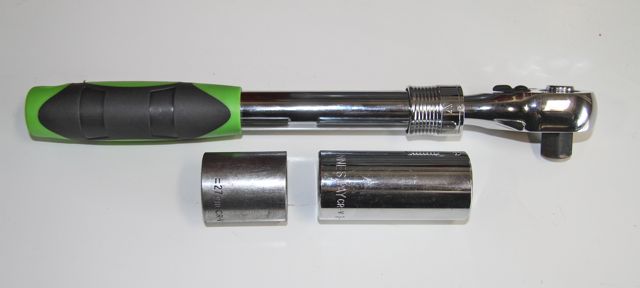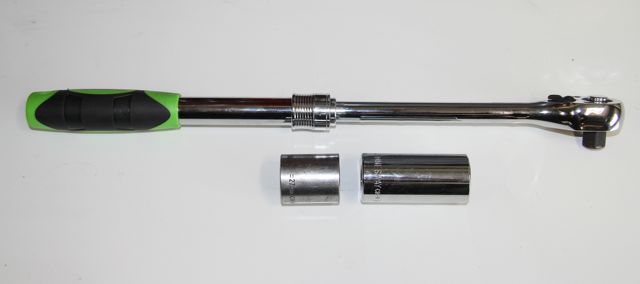 The socket is used to get onto the front bolt on the crankshaft.  If you do from the top you will need to remove the engine driven fan assembly.  You can also go from the bottom as shown in the picture below: TO PURCHASE our socket with extension see related products below.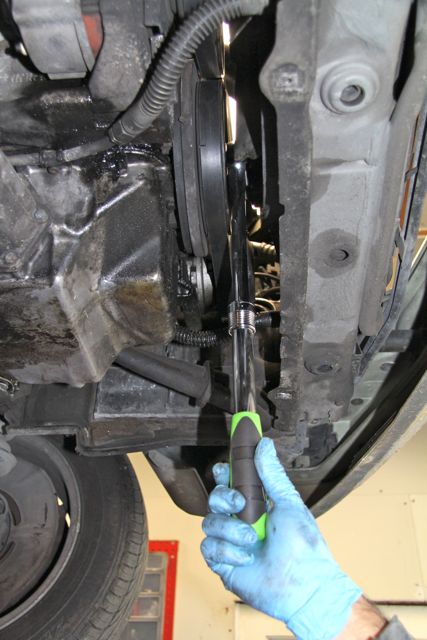 Just look how long you can make this wrench with an easy and simple modification shown in the video above. Nothing to buy and no welding required.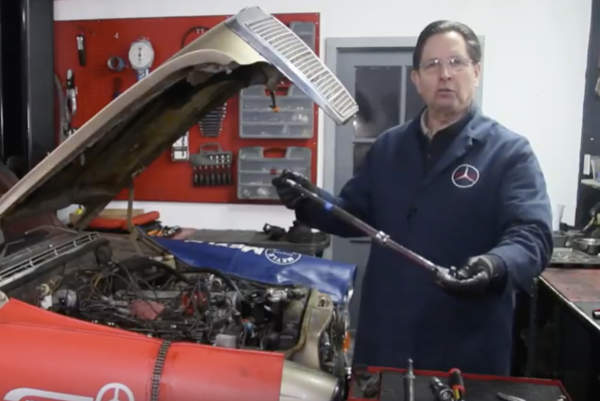 Related Products:
---