How to get your 1968 to 1985 Mercedes Dash Lights Working Properly Again
If both dash lights are not working including the lights in the upper center console the problem is most likely in the dimmer switch located on the back of the instrument cluster. This is also called the potentiometer providing variable resistance in the wiring to the bulbs. When the potentiometer gets corroded or comes apart your dash illumination lights will be totally dark
How to Repair Your Dash Light Dimmer Switch - On Demand Video
$9.99
On Demand Video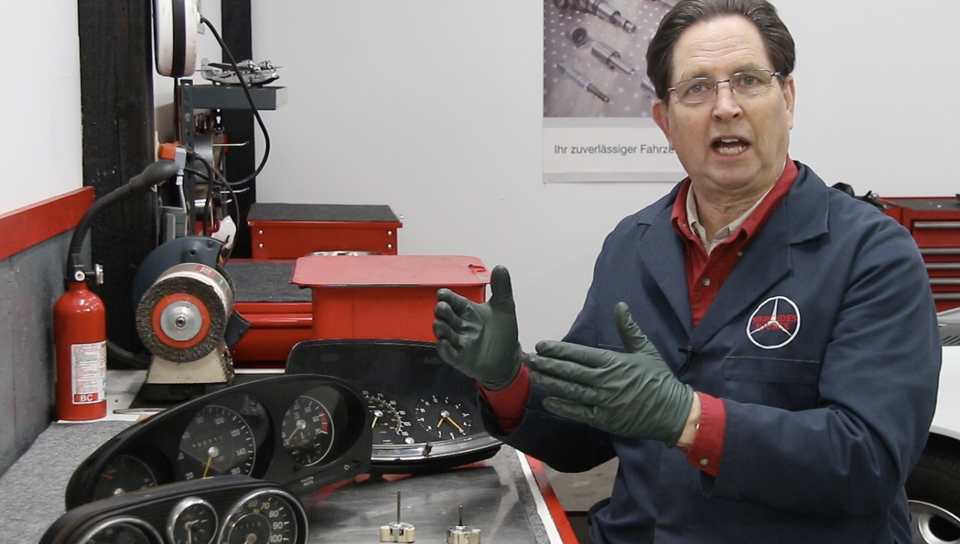 Product Details
Video Preview:
Kent has come up with a good method to repair these old dimmer switches. Since they are no longer available new you either had to find a good used one, fix the one you have or bypass it all together.
In this detailed video with close up images he goes over the theory of operation and why most of these switches fail. He will show you how to test it using an ohm meter. He then walks you through the step by step procedure of how to determine if your switch is repairable, how to take it apart on the bench, how to repair a loose or damaged resistance coil wire, how to clean all the key contact points, and how to successfully put it all back together. 45 minutes of very detailed information!!!
NOTE: This is Part 1 of a two part series. If your dimmer switch is not repairable or you can not get the dash lights to work even after repair please see part 2. Kent goes over options for bypassing the potentiometer and discusses what else could be wrong if you are having problems with no dash lights. See related products for a link to Part 2.
This video DOES NOT cover detailed information on the removal of the instrument cluster from the dash. Kent just briefly alludes to some of the key steps you will need to get it out.
Total Run Time: 44:58
---
How to view this on-demand video:
Once you complete the purchase of this video you will be able to view it immediately when you are logged in and on your personal account page (click on My Account). The video(s) will show up under My Video Manuals. The video is NOT downloadable to your computer or mobile device, but you will be able to view it anytime, from anywhere and from any device as long as you have internet access and you are logged in to your account at mercedessource.com.
Important note: This video manual may or may not include all the information you will need to troubleshoot and/or repair your specific problem/s. Please read the full description carefully to determine if this video is applicable to your year and model and contains the information you are looking for. If not, please refer back to our "Solutions Finder" and enter your chassis number and the specific problem you are having to see if we offer a solution.
Related Products:
---