5 needed for 1989 190D 2.5 and 1990 TO 1993 300D. 6 needed 1990 to 1991 350SDL and 1992 to 1993 300SD (140 Chassis)
PLEASE READ CAREFULLY. This glow plug works ONLY in those years and models listed above. If you order by mistake they are not returnable. SOLD INDIVIDUALLY. If you need five please change your cart total to 5. If you need 6 then change the total to 6.
Late 602 603 Diesel Monark Glow Plug - SOLD INDIVIDUALLY
$10.95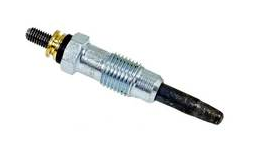 Product Details
PLEASE NOTE:  NO INSTRUCTIONS and NO WIRE NUTS included.
When replacing glow plugs in these engines you will have to remove the intake manifold so you will need a new gasket (use the search box and enter manifold gasket).
If you have not done this job before we recommend the installation manual written by Kent Bergsma (look below to order).
To guarantee that your new glow plugs will last you MUST ream the carbon out of the glow plug holes.  Warranty is void if reamer is not used.  See Kent's video on glow plug reaming (look below to order).
If you think you are going to need new wire nuts for the glow plugs (you can use your old ones if you don't lose them... :-) Look below to order.
Kent highly recommends:
 Mercedes Anti-Seize Compound for Use on Critical Threads. You don't need much - sold here in small air tight container
Related Products:
---