1981 to 1985 240D 300D 300CD 300TD 300SD - Faster smoother starts in COLD WEATHER!
Looking for better-staring performance? Are your glow system lights not coming on on your dash even after replacing the glow plugs? It it taking way too long for the glow light to go out ( it should only be on 5 to 10 seconds)? This new pre-glow relay will work on all later 123 Chassis 240D (1981-1983 ONLY), 123 Chassis 300D 300TD 300CD Turbo models(1981 to 1985 ONLY),  and 126 chassis 300SD Turbo(1981 to 1985) that utilize pencil glow plugs. Cover not included. (Does not work with the 116 chassis 300SD or ANY 1980 models).
Late 616 617 Diesel High Performance Glow Plug Relay
$98.50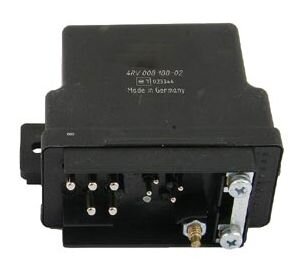 Product Details
When installing this relay upgrade (longer glow times )we recommend that you also install new glow plugs and ream the carbon out of the glow plug holes. New plugs can better handle the higher heat generated by this relay's glow times.  And don't forget - when replacing pencil glow plugs always ream out the glow plug holes to extend glow plug life. Use our search box to view our full line of glow plug kits, and kits with a reamer.
Please Note: NO Returns on electrical parts that have been installed.
Related Products:
---