For ONE 116, 123 and 126 Chassis Sedans, Coupes or Wagon Seat Bottom
For ONE 116, 123 and 126 Chassis Sedans, Coupes or Wagon Seat Bottom. This unique kit is designed to help you repair and restore one broken down front seat bottom so common in the 116, 123 and 126 chassis Mercedes built from 1973 to 1991.  And it can be done without taking the upholstery off the seat! (For 201 and 124 owners, this kit will work; however, the instructions will NOT apply. In most cases you would need to remove the upholstery to do the repair which is not how the kit was intended). The seat must be removed from the car and placed upside down on a work bench. You work with hand tools to install the included hardware from the underside of the seat frame. Average repair time is 2 hours for one seat. No special tools are required other than a grinder if you need to cut one or more of the reinforcement springs included. Included is a PDF 15 full page step by step instruction (with 50 pictures) on how to remove the seat, fix the broken springs, beef up weak areas, test the repair, and install the seat back in the car. 
Lower Front Seat Spring Sag Repair and Restoration Kit
$87.50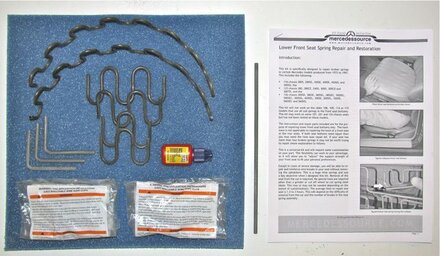 Product Details
Many of the parts in the kit are custom made or custom cut for Mercedes seats. For us, this is a labor intensive kit to assemble, but we feel you will appreciate the time savings on your end. 3 custom bent spring steel L splices are included to fix up to three broken springs in your seat. An extra piece of spring steel is included for you to custom cut and bend if you need to make additional splices.  5 difference lengths of S2 reinforcement spring have been cut for you (just the right lengths)to install in various places to restore the factory ride height feel to your seat. All the spring steel cut ends have been rounded off to prevent slicing your hands. A bag of 20 high strength pinch clamps are included to bind the new spring steel parts to your old seat springs. And finally one 12 inch square of closed cell foam is provided to make chafe strips if needed. NEED NEW BOLTS:  See below.
WARRANTY: Please note there is no guarantee this will fix your seat to "like new" condition. In most cases the repair works. If you have three to four springs broken already it is a sign that your seat has been over-fatigued and no matter how many reinforcements you install it may never sit up like new. Also if you don't install the reinforcements in the right places (and this takes experimentation) then you may not get the results you want.
Bonus Items Included: We include a couple extra goodies at no extra charge.  You may end up needing these depending on the condition of your seat and the stock of supplies you have in your garage. We are sending an extra long length of S2 spring for those really fatigued driver's seats and a small bottle of thread locker to help secure the pinch clamps.  You are going to love how this kit protects your backside!
To order for both front seats just change the quantity in the shopping cart to 2.
Here are some pictures of the before and after of a recent seat spring repair on a 1983 240D. Look at the difference!  And the great thing about it is that it is easy and can be done in approximately 2 hours. Now that is getting to the bottom of the matter!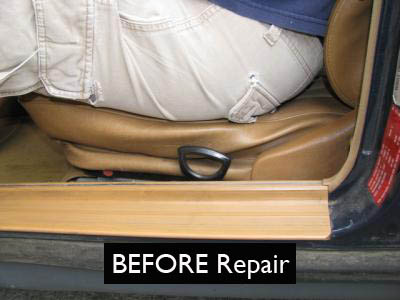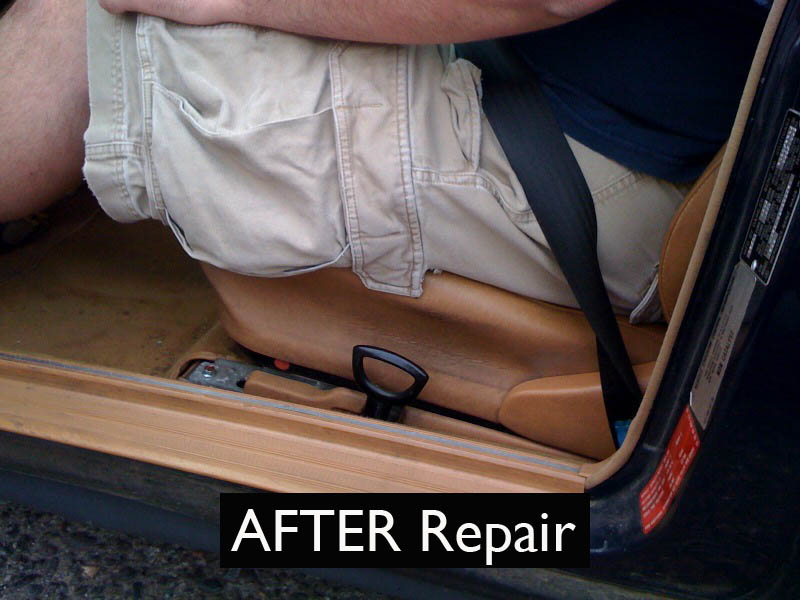 Repairs can be made without removing the padding and the upholstery from the seat. This saves hours of effort and frustration. Permanent repairs to the broken springs and beefing up the fatigued areas can be accomplished by working from the underside of the seat set on a workbench. You don't even need any special tools or equipment!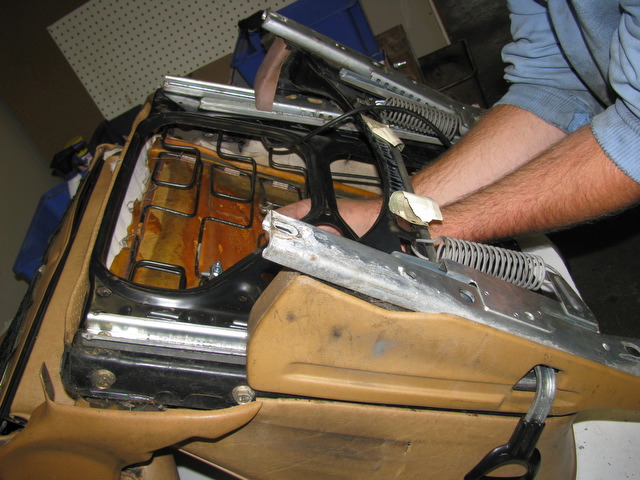 80 percent of all older front seats (especially driver side) have one or more broken springs.  Get a light and look under your front seats today. If you haven't had the car for long who knows what you will find under there - maybe some chucks of foam or pool noodles.  If you want to bring true happiness to yourself and anyone else who may drive or ride in your Benz then do this repair above all others.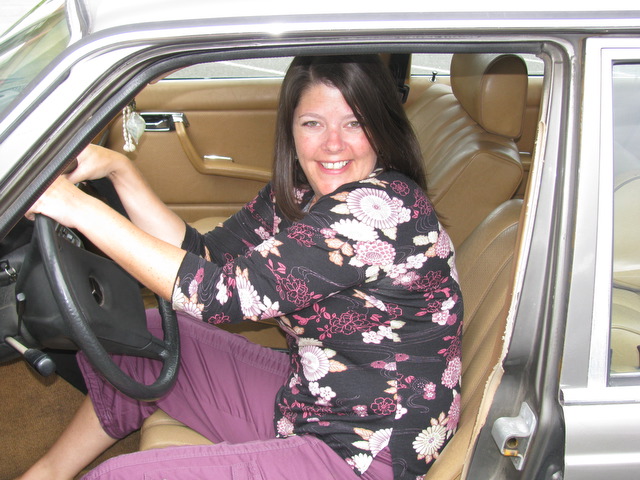 _______________________________________________________________________________
How to view the PDF digital instructions:
Once you complete the purchase of this product you will be able to download the digital instructions immediately when you are logged in and on your personal account page (click on My Account). Any PDFs will show up under My PDF Manuals. You will be allowed three downloads, so please save the file on your machine for backup.
_______________________________________________________________________________
NOTE: If you would like to read more about the challenges faced in developing this kit CLICK HERE to read more.
Here are some comments from our customers concerning this unique kit:
"I tried your seat repair kit. What a great idea!!!!! It took no time at all
to do and worked GREAT!!!. I think it took a total of about an hour and a
half, including seat removal and re-installation. I'm going to add some more
S-springs for additional support. I just can't believe the difference."
Thanks.
Bob
"Thanks for your always super advice and service.  Recent spring repair kit was exactly as advertised, worked perfectly, and was shipped immediately. 
Nice to know in these often troubled times, there are still people like Mercedessource."
 
Thanks,
"Pat" B.
Dear Friends,Thanks for the great service and all your help. I rebuilt my front seat
in my 78 240d; I grew three inches and now travel in comfort, thanks to
you.
Best of Life
Vince McCarrie
Related Products:
---