Save your engine regardless of mileage if this job has not been done in the last 15 years
For all 4.5, 5.0 and 5.6 liter V8 engines from 1972 to 1991 (excluding the W140 500SEL). This includes the 280SE 4.5, 280SEL 4.5, 300SEL 4.5, 450SE, 450SEL (excluding 6.9), 450SL, 450SLC, 500SEC, 500SEL, 560SL, 560SEL, and 560SEC. These THREE are the upper (and easily accessible) plastic guide rails that most often break due to age and heat. When they break they can cause the timing chain to "jump" the sprocket which will allow the pistons to come up and hit and bend the valves or WORSE if it happens at high speed!!!  As seen on Cherry. CLICK HERE to watch the full video series on Kent's R107 rolling restoration.
M117 V8 Timing Chain Upper Guide Rail Replacement Kit
$48.75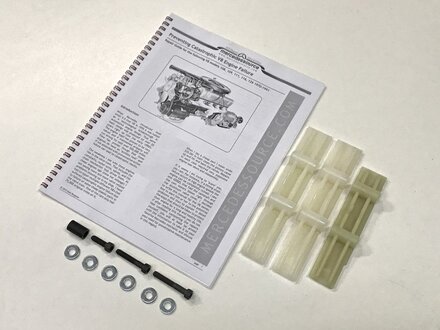 Product Details
Kit contains:
3 upper guide rails ( one on right side and two on left side)
Special bolt and spacer guide rail pin removal tool
Kents Valve train repair and service manual for M116 and M117 V8
PLEASE NOTE: The manual covers more than just installing the upper guide rails. It also includes instructions on how to install the oiler tube clips and replace the timing chain without opening up the engine. As a bonus feature, it also includes instructions on adjusting the valves on 1969 to 1976 3.5 and 4.5 liter engines. 
Related Products:
---