12mm I.D x 1 meter long. A very common source of fluid leaks for W123, W126 and 1981 to 1989 R107
Fits all 123 and 126 chassis and later R107 as noted above - both gasoline and diesel models. It may fit a few other models as well but you MUST measure your old hose before ordering. We also carry the 15mm hose for most of the older models. See related products below:
Power Steering Correct Return Hose
$26.50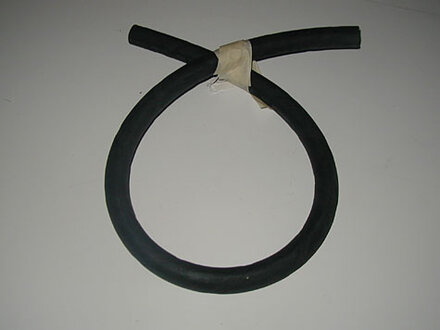 Product Details
Mercedes used two sizes of this same style hose from the 1960s up into the early 1990's for the low pressure return line from you power steering box to the pump reservoir. I can not count the number of times I have seen a Benz come into my shop with this hose cracked and weeping fluid from the inside out. It seems like the hose lasts about 20 years and then decides to die.
I recommend you replace it before it fails on you. I am sending approx 3 feet of this high quality reinforced hose (do not use fuel line or heater hose). More than enough to do any car. If you have not done so already I recommend you change your power steering pump filter and fluid at the same time.  Look below to see our power steering filters and fluid upgrade kits
.
Related Products:
---