Specific instructions for 1981 to 1985 Turbo Diesel Automatic Transmissions
The bowden cable runs from the transmission to the throttle linkage on many Mercedes from the early 1980's up through the early mid 1990's. When this cable fails or is out of adjustment the transmission will either shift too early or too late. The other problem is that the o-ring seal between the cable housing and the transmission can become brittle and allow transmission fluid to leak down the right side of the transmission case. Replacement of the cable or removal to replace the o-ring takes a somewhat "tricky" procedure
Transmission Bowden Shift Control Cable Removal and Replacement - On Demand Video
$12.99
Get it for Free! This is available as a free add-on item. Review the product details for bundle options.
On Demand Video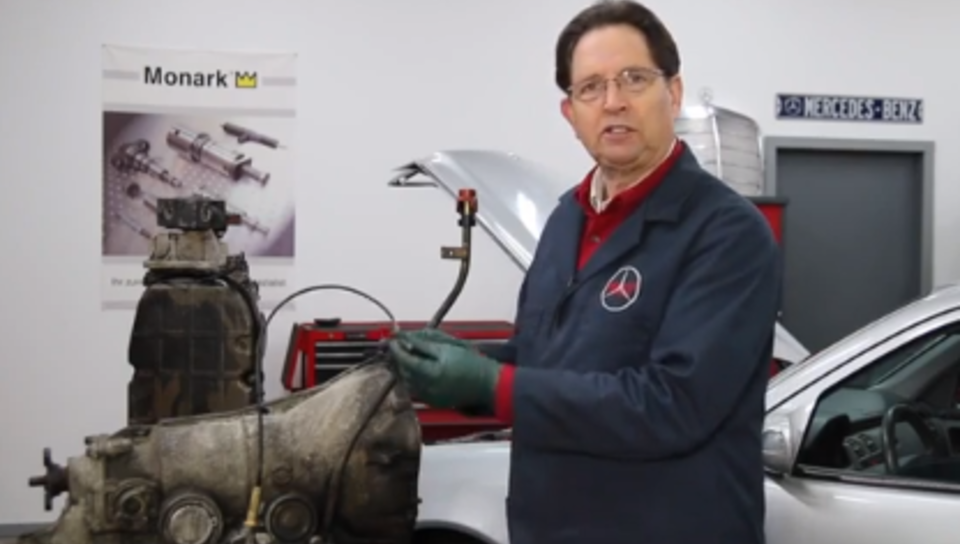 Product Details
You will find that you may need "three hands" as well as a special bent pliers to complete this job with the transmission in the car. Kent will show you how to make a "third hand" as well as guide you through the entire process in detail so you can complete this job yourself. He will use a transmission out of the car and on the bench so you can clearly see each step. 
In this video Kent will cover the following:
Why you would need to remove a bowden cable

Methods of removal that could cause damage
Other precautions
Special tool preferred
Importance of cleaning before removal
Procedure for removal
How the cable is connected to the transmission
How to hold the rod in position for cable attached
Close up images of how the cable is connected
Step-by-step instructions on reinstalling the bowden cable
Best tool to hold pin
How to clamp the tool to hold the pin
Ways to get the housing to snap into the transmission
Use of a hose clamp and special tool to complete the job
Bonus section of how easy it is to replace the bowden cable
NOT COVERED: Bowed cable adjustment is not covered in this video. Other transmission adjustments to the modulator and the vacuum shift valve ( VCV ) are also not covered in the video. For instructions on how to adjust the bowden cable and other transmission shift issues please see the related products.
Total run time: 14:00
---
How to view this on-demand video:
Once you complete the purchase of this video you will be able to view it immediately when you are logged in and on your personal account page (click on My Account). The video(s) will show up under My Video Manuals. The video is NOT downloadable to your computer or mobile device, but you will be able to view it anytime, from anywhere and from any device as long as you have internet access and you are logged in to your account at mercedessource.com.
Important note: This video manual may or may not include all the information you will need to troubleshoot and/or repair your specific problem/s. Please read the full description carefully to determine if this video is applicable to your year and model and contains the information you are looking for. If not, please refer back to our "Solutions Finder" and enter your chassis number and the specific problem you are having to see if we offer a solution.
Related Products:
---