For all 108 109 114 115 107 116 123 126 201 124 129 and 140 chassis 1968 to 1995
If you have ever tried to remove and reinstall a shift rod attachment clip under your Benz you know how frustrating it can be. On some chassis like the 201 models it is almost impossible to even get to the clip let alone remove it with standard hand tools!
Transmission Shift Rod Clip Removal and Installation Tool
$12.95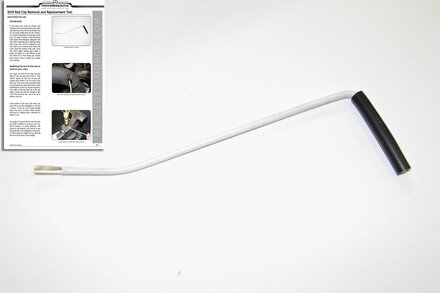 Product Details
Kent designed this tool after spending years fighting these little clips. You will be amazed at just how easy it is to remove and install the clips with this little tool. PLEASE NOTE: The tool comes with PDF instructions for use and for possible modification.  Keep in mind that all clips are not exactly the same, so the end of the tool may need some "minor tweaking" to get it to work perfectly on your clips.
You insert this little tool in the back of the clip and then twist it. That motion opens up the clip so you can remove and install it on the end of the shift rod. The tool also holds the clip firmly to the end so you can reach up into the side of the transmission tunnel and work the clip on and off the end of the shift rod.
_______________________________________________________________________________
How to view the PDF digital instructions:
Once you complete the purchase of this product you will be able to download the digital instructions immediately when you are logged in and on your personal account page (click on My Account). Any PDFs will show up under My PDF Manuals. You will be allowed three downloads, so please save the file on your machine for backup.
_______________________________________________________________________________
PLEASE NOTE: This clip tool is also included with Kent's custom made shift bushing installation tool along with two new bushings. See related products below. 
This clip tool is long enough that you can reach up inside the transmission tunnel and remove and replace it without dropping or losing it. The right angle bend on the other end allows you to easily turn it to either secure the clip or to open and remove it.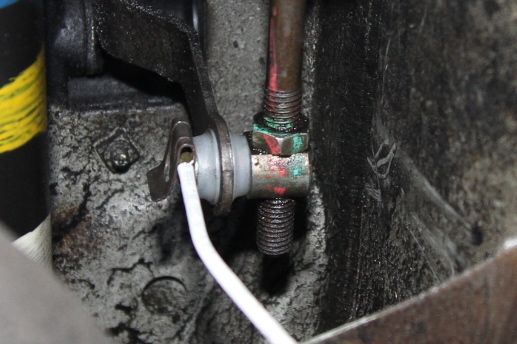 We do sell these shift rod clips brand new in a set of (2). Look below to view the item.
Related Products:
---