Electrical diagnosis can be done without removing door panel
If your rear door power window is not moving or the motor is not making any noise, it could be a failed motor, rear door switch, front switch or even a wiring problem. Trying to narrow down the problem can be frustrating unless you know the proper troubleshooting sequence.
Troubleshooting Rear Door Power Window Failure
$4.99
Get it for Free! This is available as a free add-on item. Review the product details for bundle options.
On Demand Video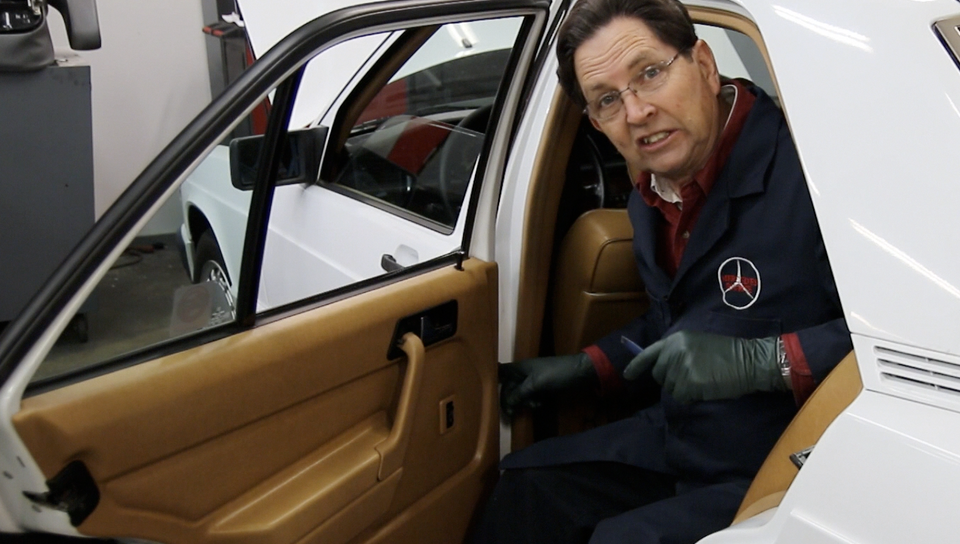 Product Details
In this video Kent will walk you through the steps he took to diagnose and then fix a non working rear window in his 1990 190E. Here are some of the specifics covered in this video instruction.
Overview of possible causes

Overview of ways to approach troubleshooting
Quick test of motor and regulator
What you need to do the quick test
Removing the rear door window switch
Access to the door wiring
Colors of wires and pins used for testing
How to eliminate the motor being the problem
How to eliminate the rear door switch being the problem
Getting to the front switches to test
Removing the wood piece shift cover on a W201
Plugging in replacement switch
Details on replacing switches on the wood shift cover
Discussion of other potential problems
Reference to other resources available
Even though this video is filmed using a W201 chassis many of the principles will apply to the W116, W123, W124 and W126 chassis also. The only major difference will be the procedures for removing the shift cover wood piece. (Only the W201 wood switch panel is covered in this video.
WARNING: There may be the possibility that your problem ends up being broken wiring between the door and the door post. This is most common in the W201 and W124 chassis. Kent discusses the possibility of this problem but DOES NOT cover the process of actual broken wiring repair in this video. 
Total Run Time: 14:39
---
How to view this on-demand video:
Once you complete the purchase of this video you will be able to view it immediately when you are logged in and on your personal account page (click on My Account). The video(s) will show up under My Video Manuals. The video is NOT downloadable to your computer or mobile device, but you will be able to view it anytime, from anywhere and from any device as long as you have internet access and you are logged in to your account at mercedessource.com.
Important note: This video manual may or may not include all the information you will need to troubleshoot and/or repair your specific problem/s. Please read the full description carefully to determine if this video is applicable to your year and model and contains the information you are looking for. If not, please refer back to our "Solutions Finder" and enter your chassis number and the specific problem you are having to see if we offer a solution.
Related Products:
---