A true challenge - but you can do it with the right knowledge.
Fixing the many problems that plague these aging tilting sunroofs can be frustrating and time consuming. As you can see from his expression in the picture, even Kent can find it challenging at times. When these sunroof mechanisms are operating properly it is a pleasure to open, close and tilt the roof. When not working properly it can be a real pain. The challenge is finding the information needed to repair it yourself. The factory manual helps a little but it is lacking in "real world" diagnosis and repair. Most of the failures Kent has seen have been caused by lack of proper lubrication. So learning how to take things apart to lubricate them becomes absolutely essential if you want your roof to keep working! 
Problem & Solution
Common among these chassis:
W124
W126
W140
W201
For years we have received requests from our customers for Kent to write a manual on these newer sunroofs. The factory repair information is weak at best and no good second party manual exists. Writing a detailed manual was a daunting task requiring a few hundred hours to write so Kent decided to do a series of video manuals on troubleshooting and repairing the tilting sunroof. This series covers those models from 1986 to 1995 that have a power sunroof that tilts in the back to a venting position. Due to its length this video series is available in five parts. Each part in the series can be purchased separately.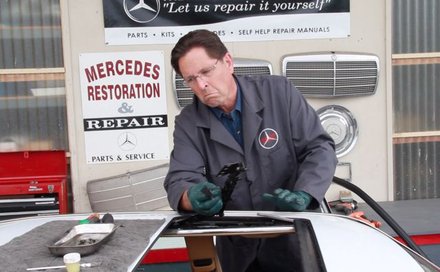 Part 1: Removing and installing the sunroof panel. This is required to inspect, adequately lubricate, and repair the angular tilting arm mechanisms. The number one cause of failure is lack of lubrication. If you are experiencing a slow working or stiff operation best to remove the roof panel and lubricate the tracks and mechanism. This is an excellent place to start.
Part 2: Angular tilting arm removal, service, repair and installation. If the motor is running and the roof will not close or open properly then one or both of the tilting arms may be broken, cracked or out of adjustment. This is the most difficult part of tilting sunroof repair. Kent explains the process in part 2 in great detail.
Part 3: Sunroof cable removal and replacement. Removing a cable is easy if it is not damaged and the motor drive is working properly. But that is not always the case. In this video Kent shows how to remove a badly damaged cable and how to lubricate and properly install a new one. 
Part 4: Sunroof motor and drive gear assembly removal and repair. If the motor is not running or the motor is running and the roof is not moving this is the video manual you will want to watch first. Kent explains how to test the motor, drive it manually, remove it, take the drive mechanism apart, inspect and lubricate it, put it all back together and install it back into the trunk. 
Part 5: Adjusting the tilting roof. There are a number of adjustments that need to be made to assure that these roofs run and close properly and to prevent premature failure. This video covers these final adjustments after you have repaired any damage and have fully lubricated all related components properly. 
Sunroof Related: Kent has also produced a video on removing and replacing the front air dam or air defector. This applies to both non-tilting and tilting sunroofs. Find links to all these videos in the related products listed to the right.