Anytime a cable or motor is damaged the entire assembly must come out and be inspected and cleaned
Kent explains why it is important to to remove and open up the motor assembly anytime you are replacing a damaged cable. On the bench he explains the workings of the motor and transmission and shows close up examples of what each of the different components do. It is much easier to work on it if you understand what it does. He explains why you have to get the cable out and get it disconnect from the cable tubes in order to remove the motor assembly.
Tilting Sunroof Part 4: Motor Drive Assembly Removal, Service and Repair - On Demand Video
$14.99
On Demand Video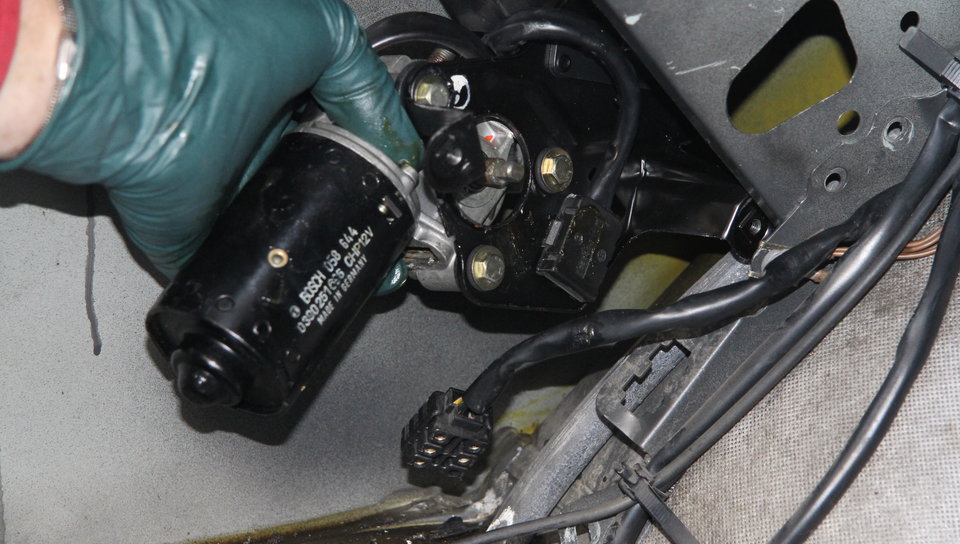 Product Details
Next, he goes into the trunk and shows you how to struggle to get the motor assembly out of the trunk. It is not easy to get to and some of the work has to be done by "feel." Once out of the car he takes the motor drive transmission apart and discusses inspecting and lubricating the gears and teeth. You will get to see samples of both damaged and good drive gear teeth. He takes considerable time showing the viewer how the clutch mechanism works on the drive gears. 
Emergency cable removal is discussed followed by electrical testing to determine if the motor itself is working properly. Importance of lubrication and the type of lubrication is covered. It is very important that you get the right amount of grease inside the cable drive transmission. He shows how to put the motor assembly back together and install in back into the trunk.
Related Repair Details NOT included: This video does not cover cable removal or replacement or any service or repairs to the sliding roof itselt. It only covers theory of the motor and drive assembly, removing it from the car, inspecting and lubricating it and reinstalling it. No adjustment information is included. See other related videos for additional help. 
Chassis/Models Used in Production: 1986 300SDL
Applies to the Following Chassis/Models: 1986 to 1995 W201, W124, W126 and W140 with the power tilting sunroof installed at the factory
Total Run Time: 32:59 Minutes
See power tilting sunroof related vidoes and products below:
---
How to view this on-demand video:
Once you complete the purchase of this video you will be able to view it immediately when you are logged in and on your personal account page (click on My Account). The video(s) will show up under My Video Manuals. The video is NOT downloadable to your computer or mobile device, but you will be able to view it anytime, from anywhere and from any device as long as you have internet access and you are logged in to your account at mercedessource.com.
Important note: This video manual may or may not include all the information you will need to troubleshoot and/or repair your specific problem/s. Please read the full description carefully to determine if this video is applicable to your year and model and contains the information you are looking for. If not, please refer back to our "Solutions Finder" and enter your chassis number and the specific problem you are having to see if we offer a solution.
Related Products:
---