1986 to 1995 models. Learn how the tilting arm mechanisms work and how to service, repair and replace them
This is part 2 of a 4 part video series Kent has done on repairing the power tilting sunroofs on the W201 W126 and W124 chassis built from 1986 to 1995. Part 1 covers removal and replacement of the sunroof panel and headliner. Part 3 covers removal and repair of the sunroof motor and cable assembly and Part 4 will cover routine maintenance and adjustment. You will need to remove the panel to work on the tilting arm mechanisms. If you are not familiar with that procedure refer to the factory service manual or watch part 1 of this on demand video series.
Tilting Sunroof Part 2: Tilting Mechanism Service and Repair - On Demand Video
$14.99
Sale
$7.50
On Demand Video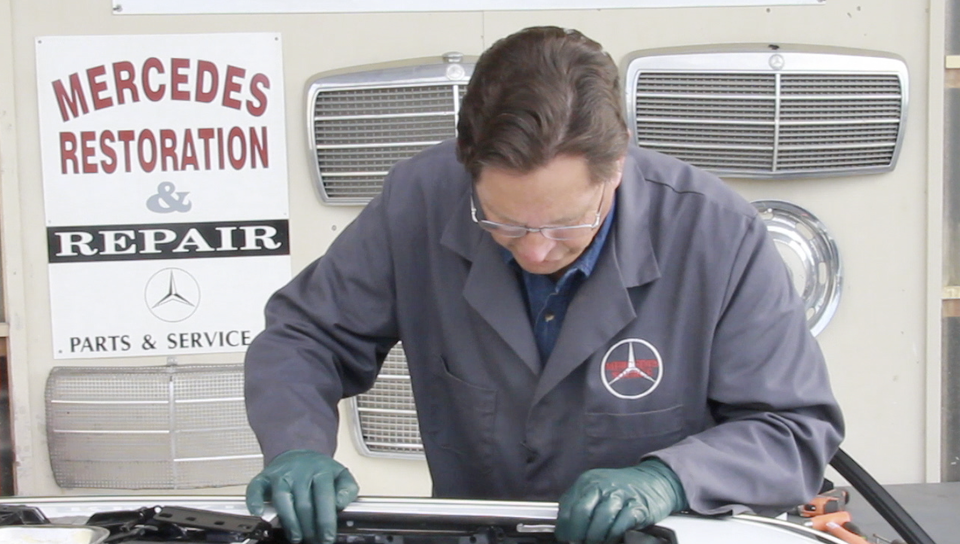 Product Details
Kent is a strong believer in the importance of understanding how a part or mechanism works if you are going to diagnosis a problem and then fix it. He starts the video explaining three different problems he is having on three different models. Next, using a complete sunroof mechanism removed from a car, he walks you through how it works. After watching that you may be surprised that these mechanisms hold up as well as they do. He explains what each mechanical component does and how to remove them all from the car. Then using three different failed mechanisms, he explains the type of problems you may run into with your own power sunroof and how to fix them yourself. Since most of the problems are caused by the lack of proper lubrication he spends considerable time showing how they should be cleaned and lubricated before reinstalling back into the sunroof tracks. 
Learning how to fix your own titling sunroof can save you hundreds of dollars! Many owners just let it go but now you can fix it and have a smooth and fully working sunroof again...
Related Repair Details NOT included: The following related procedures are NOT included here but are in the other videos in this series. There is no information here to explain how to get the sunroof panel out, nor how to fix a bad motor or replace a cable that is worn out, nor specific information on how to properly adjust the sunroof and service it regularly. Adjustment is important for long life of the mechanisms and cable. 
Chassis/Models Used in Production: 1986 300SDL, 1990 190E and 1993 300D 2.5. 
Information applies directly to the Following Chassis/Models: W201 (1996 and newer) W124, and W126 from 1986 to 1991.
Total Run Time: 33:46 Minutes
---
How to view this on-demand video:
Once you complete the purchase of this video you will be able to view it immediately when you are logged in and on your personal account page (click on My Account). The video(s) will show up under My Video Manuals. The video is NOT downloadable to your computer or mobile device, but you will be able to view it anytime, from anywhere and from any device as long as you have internet access and you are logged in to your account at mercedessource.com.
Important note: This video manual may or may not include all the information you will need to troubleshoot and/or repair your specific problem/s. Please read the full description carefully to determine if this video is applicable to your year and model and contains the information you are looking for. If not, please refer back to our "Solutions Finder" and enter your chassis number and the specific problem you are having to see if we offer a solution.
Related Products:
---