2 systems available during these years! We WILL NOT SHIP your order until you confirm via email that you model has a SINGLE HOLE accumulator!
PLEASE LOOK AT YOUR SYSTEM BEFORE ORDERING to confirm the type of accumulator you have. ( Watch the last video below for examples )For systems with ONE HOLE ACCUMULATOR only. Some 450SL, 450SLC, 450SE, 450SEL with 4.5  and W116 280SE . Also may fit some but not all 123 chassis 280E, 280CE and 280TE ( see pictures below);This kit contains most of the important items you will need to restore your old fuel delivery system located under the right rear back end of the '77 to '80 W116 and R107. You will often find rotten fuel hoses, weak or failed electric fuel pumps,  plugged fuel filters, and broken rubber mounts. There is one T balance hose assembly that is not provided but we do have a kit to rebuild yours. If you watch the video below Kent will not only explain what is in the kit but will also give you some recommendations on how what you would need to get from the local hardware store so you can make your own. We also provide a complete kit that you can purchase separately below: Study the picture above as it shows you exactly what is included in this kit. 
1977 to 1980 SOME W116 R107 C107 V8 and W123 6 Cyl. Fuel Delivery Overhaul Kit with Free Video Instructions
$304.75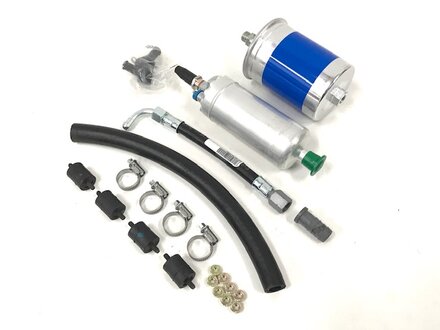 Product Details
Please Note: Each kit is custom assembled after the order is placed. The following is a list of the parts included:
New Bosch Fuel Pump
New German Fuel Filter
Large diameter reinforced fuel hose to make your own new tank outlet hose
4 hose clamps for large diameter hose
Filter to feed line factory hose with fittings
4 filter bracket rubber shock mounts
8 new locking nuts for shock mounts
1/2 inch plastic plug to minimize fuel leakage and spills
Complete on-the-bench step-by-step overhaul instructions
Watch the first video above to learn how to make the small T hose assembly not included. 
You will also most likely need a new ONE HOLE fuel accumulator ( sold separately ) especially if the car has not been regularly driven or has been sitting in storage for long periods.  Also, be sure to check out the condition of your tee hose for the accumulator. This also would need to be purchased separately if you need to replace it. See related products below:
Consider replacing the fuel injectors while installing a new F.i.D. You won't believe the difference they will make!  See related products below:
Related Products:
---