ALSO FITS 1981 to 1985 380SE and SEL Almost all 380s need this badly due to age and neglect. Rotten hoses are often overlooked. Weak pumps and plugged filters cause all sorts of engine performance problems.
All 380SL, 380SE, and 380SEL owners take note. Even if you acquire a nice 380 like Kent's Cherry you are going to need some or all of these components ( unless of course it was recently done by a competent mechanic ). I see too many pumps or filters replaced and the old fuel hoses left in place by not-so-competent "professional" mechanics. Don't believe me? Watch the video below and Kent with show you a good example. Bad hoses are the most obvious but while you are changing those you want to replace your aging fuel pump and old filter. You will also most likely need a new fuel accumulator ( sold separately ) especially if the car has not been regularly driven or has been sitting in storage for long periods.  See related products below:
1981 to 1985 380SL R107 Fuel Delivery Overhaul Kit with Free Video Instructions
$298.95
SKU:
GEG-380SLFDELIVERYKIT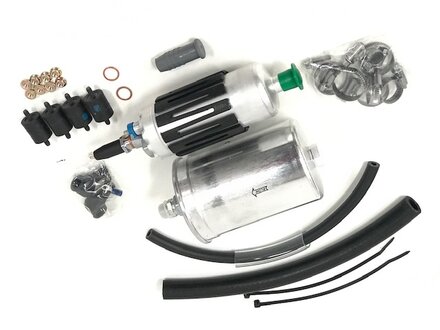 Product Details
Only works on U.S. models with the 380 V8 engine from 1981 to 1985. If you have a European Model 380 send us pictures of your fuel pump and filter assembly and we can confirm if this will work for you. This special kit contains quality replacement ( non-braided) hoses for the rear end fuel delivery system mounted under the rear of the car. It does NOT include the special crimped flexible hose that connects the fuel filter outlet to the metal fuel line going to the engine compartment. That hose tends to last longer than the other ones and can be purchased separately if needed ( see related products below ). Please inspect your car before ordering to determine if you need this extra hose and to make sure your system matches the one shown below. 
If you are going to the trouble to drain your fuel tank and replace the fuel pump, fuel filter, and hoses, we highly recommend you remove and replace the fuel tank filter screen. It will require the special tool we make to do this without having to remove the fuel tank from the car. We sell these together ( see related products below): To make it easier to drain your fuel tank you need some way to clamp off the main fuel hose coming out of the tank to prevent spilling gasoline all over the place. See related products below
This kit comes with Kent's full-length play on-demand video explaining how you can do this yourself and save hundreds of dollars and have a more reliable and safe SL driving experience at the same time too. It also comes with a bonus on-demand video on how to safely drain the fuel out of your tank.
NOT INCLUDED: There is one high-pressure hose not included in this kit that you may or may not need. Get under your car and check the condition of the fuel filter to feed line special flex hose with metal fittings on your car before ordering this kit.   Also, a new fuel accumulator is not included. If yours is original or has not been changed in the last 15 years then we recommend you purchase that also. If you need either of these items  you can order them separately - see related products below:
If you are going to "clean up" the back end of the fuel system be sure to order new injectors for the "icing on the cake."  See related products.
Related Products:
---