For all M112 and M113 gas engines with leaking breather chamber covers on top of engine
If you own a 1998 to 2006 Mercedes with a V6 (M112) or a V8 (M113) engine this is one job you will have to deal with at some point. Just pull the top cover off your engine and look. Even cars with low mileage may have oil seeping out the breather covers on the top of the heads. Doing a proper reseal on these covers is not hard but it is tedious if you don't want them to leak again. This is one job if you want it done right you should consider doing it yoursel!!!
1998 to 2006 V6 and V8 Engine Breather Cover Oil Leak Fix Kit
$49.75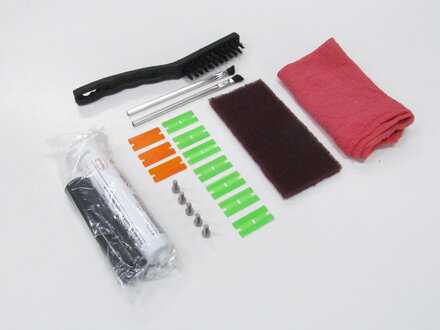 Product Details
 Even more so than needing the correct sealant, you will need to make sure the sealing surfaces are ABSOLUTELY clean of any dirt, oil, or moisture BEFORE you apply the new CORRECT sealant. This kit contains supplies and instructions on how to do just that. 
Tube of MB approved correct black sealant in a syringe applicator
5 new stainless steel bolts to replace aluminum bolts
Pack of 10 plastic razor blades (for 1st phase of cleaning)
1 large nylon brush
2 custom cut acid brushes (for 2nd phase of cleaning)
1 piece of scotch brite purple pad
1 rough nap red shop cleaning rag (for 3rd phase of cleaning)
Detailed video instructions

 
Kent's instructional video on doing this repair to just one cover on one side is 36 minutes long! This video is free of charge when you buy this kit. In this video Kent removes the right side breather cover on a W220 S500 and takes you through the process step by step to fixing the leak properly.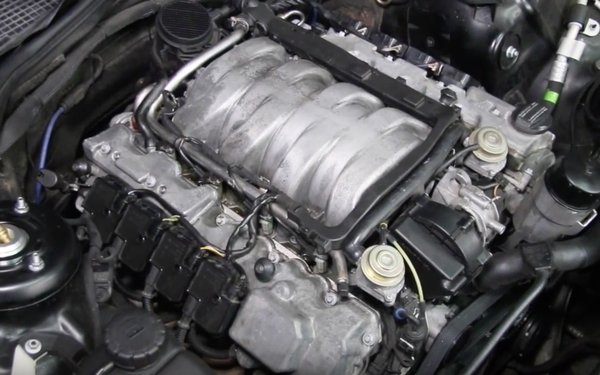 PLEASE NOTE: The replacement stainless steel bolts in this kit are the correct metric thread and length. Rather than a torx head the bolts had a 5 mm hex head. Please note this when preparing the tools you will need to complete the job. The bolts holding the covers in place should be torqued to the proper specs and Kent outlines in his video. If you need a quality torque wrench at a very good price see related products below:
Related Products:
---