For 1968 to 1983 NON TURBO 220D 240D 300D 300CD 300TD 1968 to 1983 with FREE PDF and VIDEO Instructions
This is now becoming one of the most common oil leaks in 1968 to 1985 diesel engines. Let's face it. These engines are getting older and the rubber seal is wearing and becoming more brittle with time. If you plan to continue owning a 115 or 123 non-turbo diesel you will most likely have to deal with replacing the front engine crank seal at some time. You can tell if it is leaking if the front of your engine is always wet with oil. Watch the Youtube video below to see if this is a job you want to take on yourself. 
616 617 Non Turbo Diesel Genuine Front Crank Seal Replacement Kit
$86.75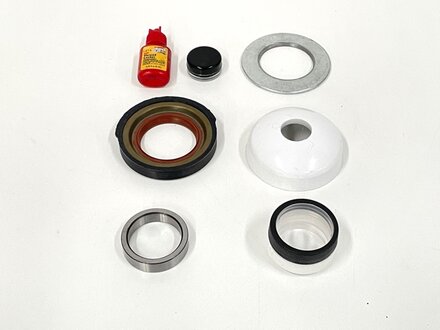 Product Details
Granted, this is not an easy job, but with my instructions (full of hard-earned tips) and the special press tools, you will be able to do this job without losing your sanity or making mistakes that would require you to do it again!
The kit includes the following:
New GENUINE MERCEDES OE front crankshaft seal with full flange
New crankshaft metal seal race with custom polished lip
Tube of red thread locking compound
Slick seal guide install tool to prevent edge rollover
Special press tool with a large washer
A small container of aviation Permatex sealant
PDF written instructions by Kent included
On-Demand video instructions on seal race removal and install
On-Demand video instructions on rubber seal replacement using Kent's special tools included
This job will require the removal of the fan shroud, radiator, fan, and pulleys to gain access. Along with the parts and tools included in this kit, you will need the following (see related products below):
24-inch long breaker bar with a pipe extension (as shown in the video above)
Quality H.D. 6mm hex head bolt socket to remove the pulley bolts
Seal removal tool 
Three-arm hub puller to remove the counterbalance pulley 
27mm or 1 and 1/16 inch deep socket (1/2 inch drive) - same size as injector socket
Electric Heat gun
Seal Race Puller
Assorted hand tools, drip pans, cleaners, and rags
If you are opening up the front accessory area of your engine for any type of work (ie. water pump replacement), We recommend you go ahead and change the front crank seal at the same time. If you are planning to replace a leaking seal it would be a good opportunity to replace the water pump, rebuild the vacuum pump, replace your v-belts and hoses, install a new thermostat and flush the cooling system if needed.
Related Products:
---