Must be done using separate fuel tank. Cleans injection pump, fuel injectors, pre chambers, combustion chambers and helps reseal piston rings. Will not work on extremely worn out engines.
UPS ground shipping only. Can not be shipped internationally. Rather than try to explain what this kit does and how it does it we are going to ask you to watch the video below if you have not already done so. If your diesel engine is not physically worn out and is just beginning to show some signs of engine blow-by and/or excessive exhaust smoke, then this procedure may bring the engine some new life. The results can vary depending on the mileage and condition of the engine. There is no guarantee this will "restore" your engine to its past performance, but we have found that on engines that have sat idle for long periods or engines that have only been driven sporadically and low speeds ( ie. around town) there is a possibility you could experience some dramatic results. The "cleanse" could result in reduced blow-by and engine oil consumption, increased power, faster start-ups, less exhaust smoke, quieter fuel injectors, less vibration, and better fuel economy.
Older Diesel Internal Engine Cleansing Kit
$62.00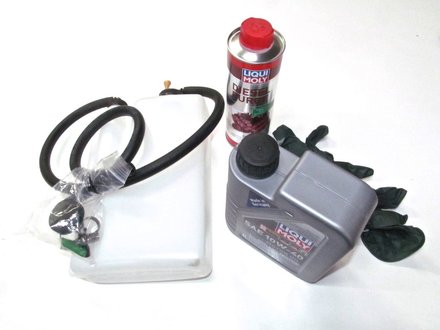 Product Details
Included in this kit:
Diesel Emergency / Purge tank and hoses
I can diesel purge
I liter high moly content oil
1 pair heavy duty nitrile gloves
Video instructions on connecting fuel tank and purging engine
Not included that you will need to acquire yourself:
One gallon high quality non-hydrogentated vegetable oil
Small amount of diesel fuel to mix with the oil
1 pint measuring can or cup
Small hand tools - mostly screw drivers
Rags for cleanup
INSTRUCTIONS:
1. Hook up the fuel tank and do a complete diesel purge as per the video instructions included. Use the full tank
2. Mix up your "cleanse solution." Pour about a pint of vegetable oil out of the gallon container to give you some room to add the diesel oil mix.​
3. Mix 1/2 pint of diesel fuel with 1/2 pint of the hi moly content oil included in the kit. Pour this pint of mix into the gallon jug of vegetable oil. Shake thoroughly.
4. Pour half of the vegetable oil into the emergency fuel tank and run engine until almost gone. Pour the other half into the emergency tank and continue to run engine until you only have about 1 inch of fuel remaining in the tank. Do not run dry or you will have to bleed your fuel system of air. Watch the YouTube video to give you an idea of how Kent does this. 
RECOMMENDATION IMMEDIATELY AFTER CLEANSE: The cleanse will have loosened up some of the carbon build up in the combustion chamber and maybe even loosened up your engine's piston rings. Vegetable oil has an amazing "scrubbing" action inside a diesel engine. Take your car on an Italian Tune-up to "bow out" all the carbon and coke buildup and help reset your piston rings. This means driving the car at 70 mph plus for at least 2 hours - preferable under load like going over a mountain pass. 
APPLICATION / WARNINGS: We only recommend using this procedure on 1950 to 1999 diesel engines with mechanical fuel inection systems. Do you use on any newer engine or you can damage it.
To buy the fuel tank separately please see related products below.
Related Products:
---