Prevents Catastrophic failures on 3.5 and 4.2 liter V8 engines from 1970 to 1991 and the 3.8 (380) engine ONLY with twin row timing chain.
If you own a Mercedes with the M116 V8 engine (expect 1980 to 1982 380 engines with single low chains) timing chain failure can really ruin your day! If the engine it turning at high speed when this happens, it can destroy the engine. If it happens at low speed, you may get away with removing the heads and replacing some bent valves. In either case, it is going to be very expensive to repair. Chain failure is usually caused by one of the upper guide rails breaking off and falling into the sprockets causing the chain to "jump timing" or by excessive wear in the chain links causing it to break apart. As seen on Cherry. CLICK HERE to watch the full video series on Kent's R107 rolling restoration.
M116 V8 Timing Chain and Upper Guide Rail (3) Replacement Kit w/ Written and Video Instructions
$159.50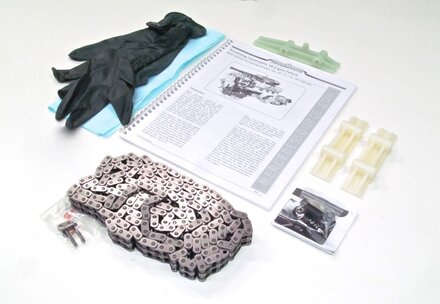 Product Details
Kent has written a manual and done a number of videos on this problem. You will see first hand why he recommends you change these parts BEFORE they fail.
Replacing the chain is not difficult but requires great care in both preparation and procedure to make certain it is installed properly with minimal effort and time. If you do it wrong you could end up having to take the front of the engine part. A new chain can be connected to the old chain and "rolled" into the engine with the aid of a helper. It does not require major disassembly of the engine. 
This kit includes:
New TWIN ROW timing chain
3 new upper guide rails
Guide pin removal tool
Heavy duty green nitrile gloves
Lint-free blue cloth
Complete written instructions
Video Tips on how to prevent problems during chain replacement
This kit will not work on 1980 to 1982 3.8 (380) V8 engines with the single row timing chain. Some of these early engines have been converted to twin row chains. If you do not know for sure remove one valve cover and check BEFORE ORDERING!
This kit does not include the valve cover gaskets or the oiler tube clips. The clips are made of plastic and unless they have been replaced in the last 10 years they should be (or your camshafts could be ruined). We do sell a valve cover gasket set separately if your clips have been changed or a valve cover gasket set with clips. Since you will have to remove your spark plugs to replace the timing chain this might be a good time to replace your spark plugs as well. See related products below for these other items:
Related Products:
---