Applies directly to all W123 wagons and some 123 sedans and indirectly to other early 111, 108, 114, 115 and 116 models
Manual sunroofs can have problems too. Just like their electrically operated counterparts, most often they will fail due to lack of lubrication. The number one failure point is a broken T handle. Number two is failure of the roof to close properly due to damaged felt feet and plastic slides.
Manually Operated Sunroof Removal and Service - On Demand Video Manual
$14.99
Get it for Free! This is available as a free add-on item. Review the product details for bundle options.
On Demand Video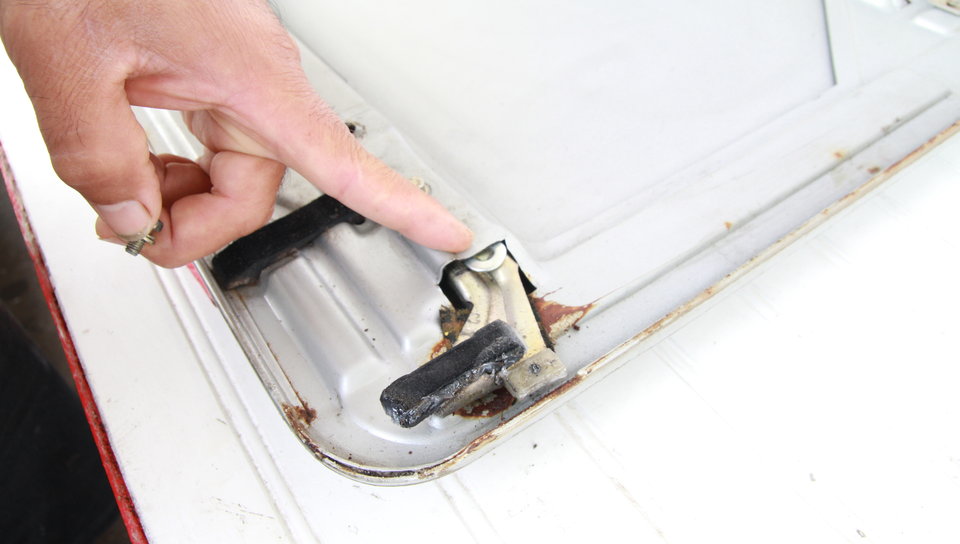 Product Details
Video Preview:
The above short video trailer explains the purpose of the video.
In this video manual Kent will show you how to properly remove the sunroof panel, how to clean and lubricate all the key moving compents, what type of grease to use, some warnings and cautions, how to deal with rust, and then demonstrate how to put it all back together again! In this 300TD sample you will be amazed at what he discovers and the huge difference in operation. 
NOTE: This video is filmed using a W123 300TD wagon. The manual roofs were the same on W123 sedans that came so equipped.  The procedures for removing manual sunroof from other older chassis are very simiar but there may be slight differences in how the handle mechanism works and / or the types of slides used. In all cases the sunroof does come out and go back in using the same procedures. One of the many things Kent likes about working on Mercedes Benz. 
This video does not cover the following: No instructions for power operated sunroofs are included here. Please see Kent's other videos and manuals if you have an electrically operated roof. How to repair plugged sunroof drains is NOT covered in this video. Please see other videos on chasing interior water leaks. Repairing a faulty air dam deflector is not covered. See companion video listed in related products. 
Total Run Time: 27:30
---
How to view this on-demand video:
Once you complete the purchase of this video you will be able to view it immediately when you are logged in and on your personal account page (click on My Account). The video(s) will show up under My Video Manuals. The video is NOT downloadable to your computer or mobile device, but you will be able to view it anytime, from anywhere and from any device as long as you have internet access and you are logged in to your account at mercedessource.com.
Important note: This video manual may or may not include all the information you will need to troubleshoot and/or repair your specific problem/s. Please read the full description carefully to determine if this video is applicable to your year and model and contains the information you are looking for. If not, please refer back to our "Solutions Finder" and enter your chassis number and the specific problem you are having to see if we offer a solution.
Related Products:
---