Almost every 123 needs some type of instrument cluster repair or upgrade!
There are a number of things that can go wrong with a W123 instrument cluster. Once you have the cluster out of the car and on the bench you can address them. In this 17-minute video, Kent will explain the problems, show some repairs, and guide you to other resources that may help you fix your cluster problems.
W123 Instrument Cluster Bench Repair- On Demand Video
$14.99
On Demand Video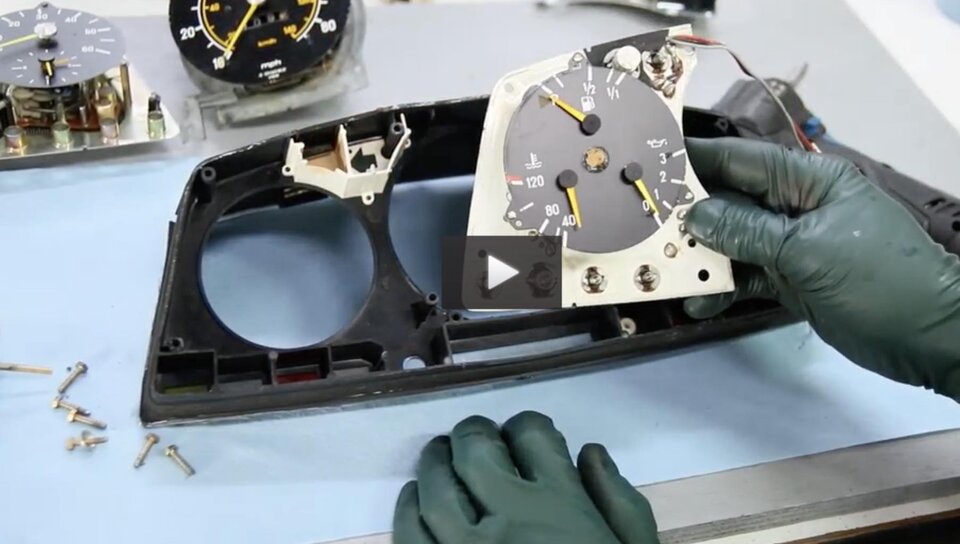 Product Details
Here is a list of what is covered once you have your instrument cluster on the bench. 
Removing the instruments from the black plastic housing
Where to send your speedometer for repair if the odometer is not working
Problems with the engine instrument cluster addressed
Where to purchase a replacement oil pressure gauge if it is leaking oil
One cause of fuel gauge or engine temp gauge jumping or not working properly
Differences between early and late engine instrument cluster shown
Repairing a separated clear plastic front face
Problems with plastic housing discussed
Inspection of light bulb holders and light tunnels
Purpose and problems with clear plastic light bar
When you should find a new housing
How to remove and paint the discolored white plastic bulb reflectors
How to increase dash light brightness by sealing any light leaks in the housing
Why use LED bulbs
Problems with the dash light dimmer switch
Options to repair or replace the dimmer switch - other resources given.
NOT included in this video are actual instructions to repair your odometer, your oil pressure gauge, or your dimmer switch. I have separate instructions and parts available for the latter two. I will tell you where to send your odometer for repair. See related products below:
This video does not cover removing the cluster from the car. If you are not familiar with that procedure a companion video is available. Please see related products below.
---
How to view this on-demand video:
Once you complete the purchase of this video you will be able to view it immediately when you are logged in and on your personal account page (click on My Account). The video(s) will show up under My Video Manuals. The video is NOT downloadable to your computer or mobile device, but you will be able to view it anytime, from anywhere and from any device as long as you have internet access and you are logged in to your account at mercedessource.com.
Important note: This video manual may or may not include all the information you will need to troubleshoot and/or repair your specific problem/s. Please read the full description carefully to determine if this video is applicable to your year and model and contains the information you are looking for. If not, please refer back to our "Solutions Finder" and enter your chassis number and the specific problem you are having to see if we offer a solution.
Related Products:
---