Genuine Mercedes OLD STOCK found in warehouse. Very limited supply. FREE bonus new electrical switch and 44 minute video class
If you have a stuck key or failed lock in your 1977 to 1979 W123 this is your best option for a reliable replacement but we only have a few of these in stock. The exact originals as shown in the picture below are no longer made. These do not have a replaceable tumbler assembly. But the newer style here will fit and work perfectly in your early W123 with only one modification ( very small). You will have to remove the aluminum ring in the keyhole for this unit to fit through the dash. ( See second picture below: This unit comes with the vacuum engine shut-iff switch and the vacuum switch cam installed. The switch for the door buzzer is NOT included. If desired, you will have to remove it from your old lock assembly.
1977 to 1979 W123 240D 300D 300CD 300TD Ignition Key and Lock Assembly Complete - NOS
$365.00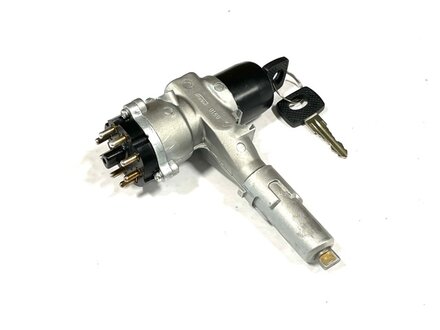 Product Details
Kent's on-demand video class now includes instructions on how to remove the steering lock with a key as well as how to remove it (much more difficult) if your key is stuck or you have lost the key!!!
Is your key stuck or last and you don't want to pay an arm and a leg to get it out. Kent's 44-minute in-depth video class will not only show you how to get this out of your dash with a working key, but the video will show you how to get it out without a key and it is not as difficult as you might have been led to believe!
Here is a close-up look of the original style tumbler assembly that you currently have. Note the smaller diameter of the key tumbler housing.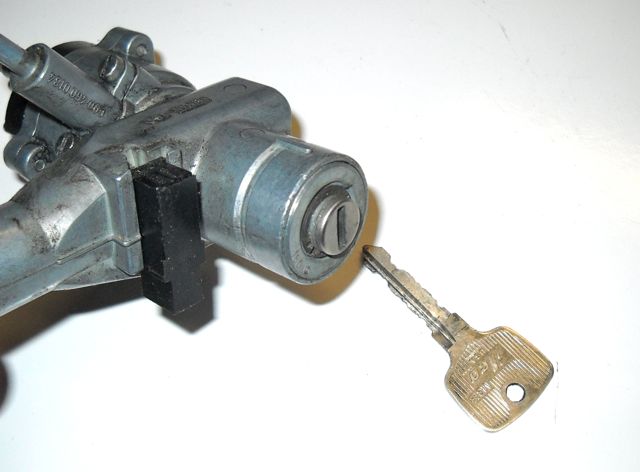 When you install the new larger-diameter upgrade in your dash, you will have to remove the chrome trim ring to get it to fit in the hole. Unfortunately, the new style (thinner) chrome trim ring is no longer available. You may be able to find a used one from a 1981 to 1985 123 chassis in a wrecking yard. If you can't find one, you are going to see the gap in the dash hole. Refer to the picture below.
f
The picture below shows the old-style electrical switch that is mounted into the steering lock housing with three machine screws. For a limited time a new genuine O.E. Mercede switch is included at no extra cost: backinstock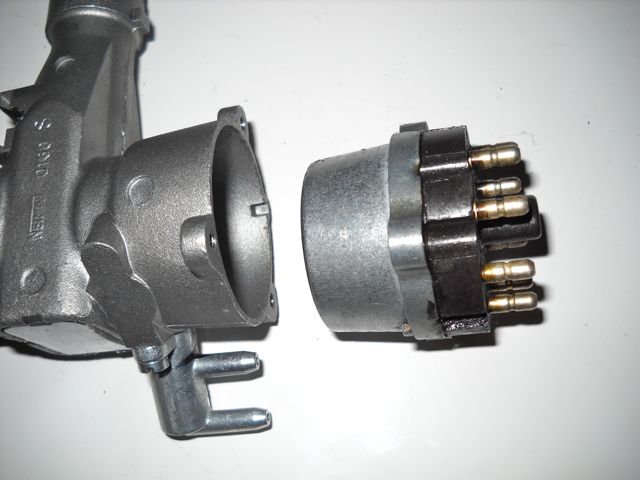 Related Products:
---