How to use the best medicine for sick diesels to perform a proper diesel purge
Rough running diesels abound everywhere. The symptoms include poor acceleration, no power, and excess exhaust smoke. Some times these can be a sign of real problems. Other times it may mean your fuel injection system just needs a good cleaning. And NOTHING cleans better than Diesel Purge.
Purging a Diesel Engine Fuel Delivery System Step-by-Step - On Demand Video
$8.99
Get it for Free! This is available as a free add-on item. Review the product details for bundle options.
On Demand Video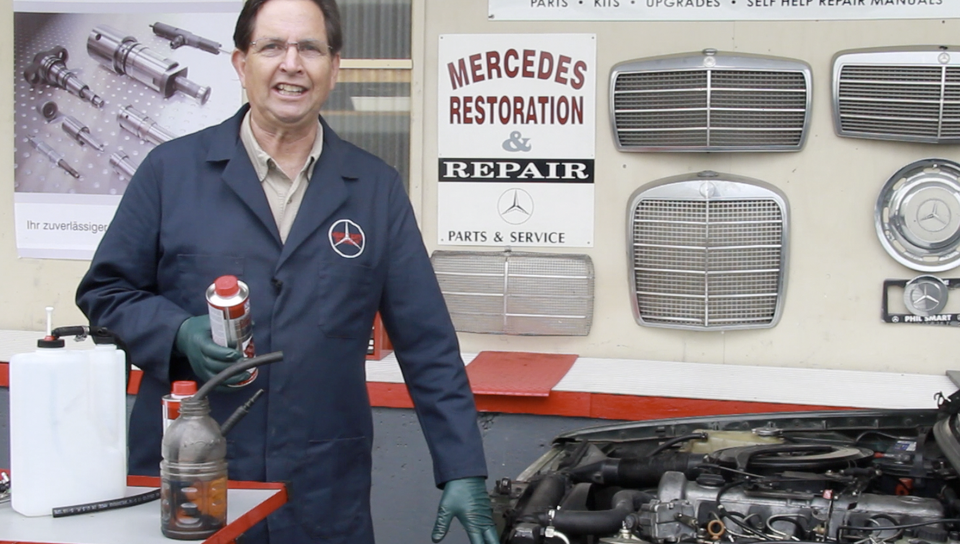 Product Details
Video Preview:
This short video will explain diesel purge and what is covered in the full on demand version.
Diesel Purge is not a fuel tank additive. It has to be run directly through your injection pump and fuel injectors to do its thing. This means it has to be hooked up to some type of bottle that can "cycle" the fuel directly into your diesel engine. Unless your engine is worn out or has a serious mechanical problem Diesel Purge can work miracles on sick engines. Let Kent show you the step-by-step procedure for using this amazing product. Theory is discussed in detail along with a few tips he shares to make the job go easy for you. He will even discuss what you should do if the purge does not solve the problem. It is something you can and should do yourself.
This can be used in all older diesel engines with mechanical injection pumps and fuel injectors including all mercedes diesels from 1950 to 1999. This includes the 170D, 180D, 190D, 200D, 220D, 240D, 300D, 300CD, 300TD, 300SD, 300SDL, 350SD, 350SDL, and E300D. It also works on any diesel vehicle that uses mechancial fuel injectors built for the 1970's up to the late 1990's. 
In this video Kent uses a 1983 300D Turbo to demonstrate the procedure and you will see and hear first hand the difference in the way the engine runs. 
Total Run Time: 24:22
---
How to view this on-demand video:
Once you complete the purchase of this video you will be able to view it immediately when you are logged in and on your personal account page (click on My Account). The video(s) will show up under My Video Manuals. The video is NOT downloadable to your computer or mobile device, but you will be able to view it anytime, from anywhere and from any device as long as you have internet access and you are logged in to your account at mercedessource.com.
Important note: This video manual may or may not include all the information you will need to troubleshoot and/or repair your specific problem/s. Please read the full description carefully to determine if this video is applicable to your year and model and contains the information you are looking for. If not, please refer back to our "Solutions Finder" and enter your chassis number and the specific problem you are having to see if we offer a solution.
Related Products:
---