Includes parts, special tools, supplies and NEW video instructions so you can do this yourself. Almost all W126 sedans and coupes from 1980 to 1991 need this repair!
This is our complete kit for an at-home DIY repair. Loose and worn out guide rod ball joint bushings are the most common front suspension problem on the W126 sedans and coupes. Check the condition of yours if you have not recently done so. If you are hearing clunking noises when driving slowly over rough ground,  then this is something you will need to attend to if you own a W126. Watch the video below as Kent explains the problem, shows the part that needs replacement, and how this kit can help you easily do it yourself without a car lift. 
W126 Front Suspension Complete Guide Rod Ball Joint Bushing DIY Replacement Kit
$189.50
SKU:
SRS-W126GUIDERODCOMKIT
Product Details
The kit contains the following:
2 guide rod mount bushing kits ( left and right side are the same )
Cable winch the move front control arm to new parts can be installed
2.5-pound dead blow soft hammer to remove and install the oil bushings safely and easily
4 long bolts to replace yours if rusty
Anti-corrosive get and cleaning pad
Kent's new video instructions Fall 2019
Here is an image of what most of these bushings look like after years of wear.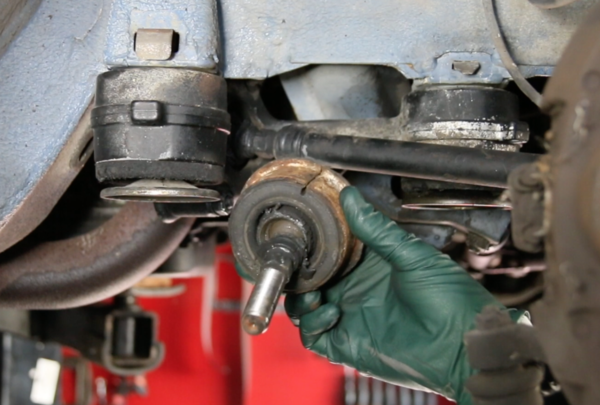 If you already own some of these tools or you have done this job before, all of the items in this kit can be purchased separately. Please see the related products below. Each one has a more thorough description
Related Products:
---