Find the actual source of the leak before jumping to conclusions
Fluid leaks are a very common problem on older cars and it is something you will eventually need to deal with if you plan to own an older Mercedes Benz (particularly a diesel) that you use as a daily driver. They can be coolant leaks, brake fluid leaks, transmission leaks, rear end leaks, fuel system leaks and engine oil leaks. Engine oil leaks are more common on diesel engines because of the high internal crank case pressures. On this page we will review some of the common fluid leaks and direct you to our specialty parts and kits that will help you fix the leaks yourself!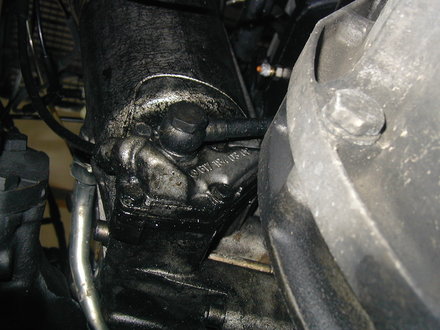 Problem & Solution
Common among these chassis:
Classic Sedans
Ponton
R107
W108 W109
W110 W111 W112 Sedan
W111 W112 Coupe
W113
W114
W115
W116
W123
W124
W126
W201
DIAGNOSING THE PROBLEM: Before you tackle a leak problem, you will need to find out EXACTLY where it is coming from. This may not be as easy as you think. If you don't make the right diagnosis you could end up spending a lot of time and money only to discover the leak is still there. We have two resource manuals available.  Kent's short manual "Why does my Diesel Leak." will cover all areas of potential leaks on your diesel Mercedes. For you owners of gas engine cars, some of the engine specific information will not apply but other sections such as brakes, transmissions, coolant, etc. will.  Kent's Advanced Diesel Diagnostic Manual also includes the same information on leaks but covers much more.
Keep in mind a "diagnostic" manual will not tell you how to fix the problem. It will only help you discover the cause of the problem. Once you have discovered the source of your fluid leak or leaks the following parts and kits will help you FIX THEM!
PRODUCTS TO FIX LEAKS:  Look at the list below. Just click on any item highlighted in red and it will take you directly to a list of related products or in some cases the actual product page with a full description.
COOLANT LEAKS
BRAKE and CLUTCH FLUID LEAKS
TRANSMISSION LEAKS
REAR END LEAKS
ENGINE FUEL LEAKS
ENGINE OIL LEAKS
Repair kits available with instructions:
Individual gaskets, o-rings and sealing washers  
CONCLUSION:  Keep in mind that it may not be cost effective to fix every little leak that may come off your engine or transmission. 25 plus year old cars just leak. Trying to fix every last drip could drive you crazy and empty your wallet!  The goal is to manage leaks, keep them to a bare minimum, and keep you driveway or garage floor clean. 
This brings up an important point for all diesel owners. If your engine has excessive blown by (crank case pressure) you may never be able to solve every oil leak. This is another good example why you should not throw parts and money at an engine (diesel or gas) that is all worn out!