For most models with self leveling suspension from 1977 to 1991 - 6.9, 300TD, 16V, 560SEL SEC
Every one of these pumps I have ever seen need resealing. The seals and o-rings become just too hard over all those years of use. This is the most complete SLS (self leveling suspension) pump overhaul kit on the market today. Not only does it come with all the correct seals and gaskets, but it includes two special tools and complete step-by-step pictorial instructions to help you successfully complete the job in record time. We even throw in the correct gasket sealant! We ship two each of the larger o-rings just in case you damage one.... The seals are made out of Nitrile 70 Durometer material.
116 123 126 201 Chassis Hydraulic Suspension SLS Pump Resealing Kit
$74.95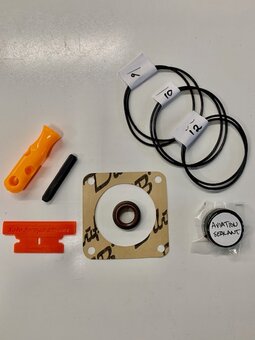 Product Details
Why would you need to overhaul your pump? If your shaft seal is damaged the pump could be leaking hydraulic fluid into your engine... not good!  Internal o-rings lose their seal thus reducing pump pressure. This can lead to rear end sage. On a couple wagons I have done nothing more than overhaul the pump and the suspension has raised up 1 to 2 inches in the back!!! All these pumps are now 20 plus years or older. They all need inspecting and resealing if they have never been opened up previously.
Below is picture of over plate removed from pump housing: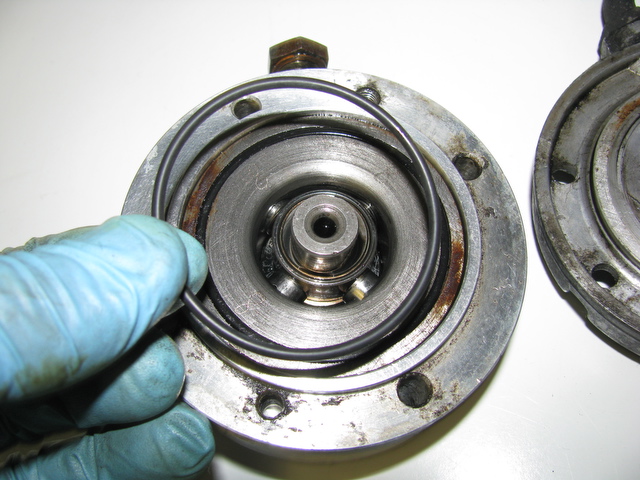 Note: This is only a reseal rebuild kit. It will not fix a worn out pump. (Evidenced by scoring of the internal metal parts).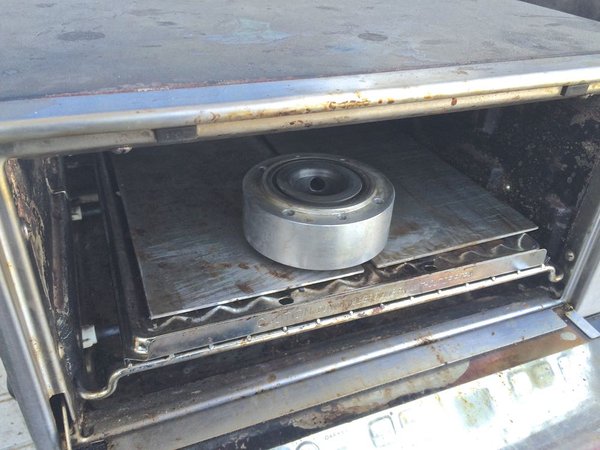 Here is a little trick I recently discovered that is not in the instructions. This is for pumps that have been sitting for years or have corrosion inside.  It can be very difficult to remove the center section from the pump housing. Either warm up the aluminum housing with a propane torch or place the entire pump in an oven at 350 degrees for 20 minutes. The heat will make it much easier to remove the center piece.
August 24, 2019 Update: A new tool is now included in the kit to aid in the removal of the center section. Please watch the second on-demand video included with this kit. It will explain how to use this new tool.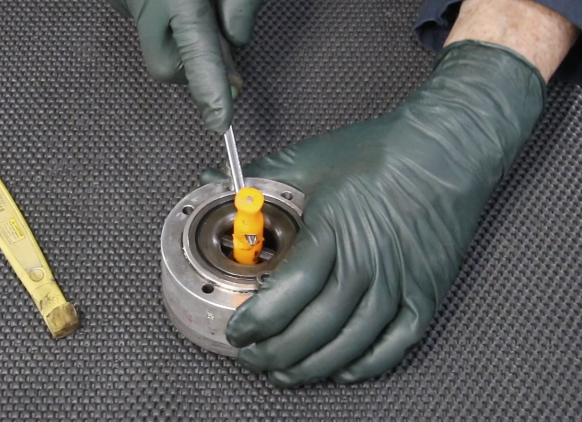 RECOMMENDATIONS: 
ALWAYS do a complete system fluid flush and filter change BEFORE rebuilding the pump. This increases seal life as well as reduces the chance for internal comtaminant scoring.
Mercedes SLS (Self Leveling Suspension) Fluid Service Kit with Instructions
For 300TD Wagon 190E 16V 560SEC 560SEL and Other Euro Models
Dont neglect this service as many do! I recommend the hydraulic fluid and filter be changed every 30,000 miles. 
ALWAYS replace any deteriorating hydraulic BEFORE rebuilding the pump.
Mercedes Self Leveling Suspension (SLS) High Pressure Hose Replacement Kit w/ Instructions
For 123 300TD Wagon, 450SEL 6.9, 190E 16V, 500SEL, 560SEL and other models with SLS
If you own a 123 wagon or other Mercedes with self leveling suspension, you will be faced someday with having to replace the main high pressure hydraulic hose that goes from the engine driven pump to a metal line fitting under routed back to the rear suspension. 
_______________________________________________________________________________
How to view the PDF digital instructions:
Once you complete the purchase of this product you will be able to download the digital instructions immediately when you are logged in and on your personal account page (click on My Account). Any PDFs will show up under My PDF Manuals. You will be allowed three downloads, so please save the file on your machine for backup.
_______________________________________________________________________________
Related Products:
---