So often neglected - yet critical to preventing pre-mature or catastrophic engine failure!
Why is this so important? It is primarily due to the age of these cars now and the fact that lurking problems can be hidden from visual inspection. There is not ONE diesel that Kent has looked at in the last five years that does not need this service! Even ones with under 150,000 original miles. Watch the YouTube video below and you will understand.
1977 to 1985 Diesel Engine Critical Coolant Service Kit
$96.50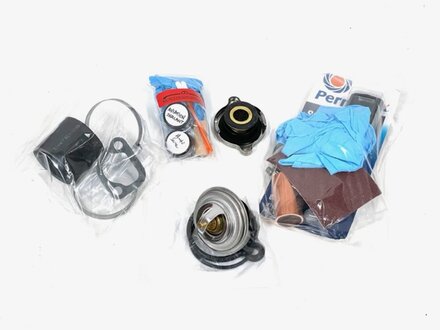 Product Details
This kit includes the following which are universal the the 1977 to 1985 4 and 5 cylinder diesel engine:
New theromstat
Thermostat installation kit
Radiator neck reinforcement kit
Water pump housing short hose kit
New cap
Instructions
NOTE: Each of the above can be purchased separately below:
There are other items you may need which are year and model specific ( ie hoses and v-belts ). You can purchase those items separately be referring to the related products listed below. The water pump is also something you should consider unless you know it has been changed within the last 10 years or 75,000 miles. You can also easily test for coolant leaks with our pressure tester we offer. ( links below to water pump and pressure tester ).
Inspect your engine for a leaking front crank seal. This is an excellent time to replace the seal when you have all the belts off. 
Related Products:
---