3 super custom tools that you will not find anywhere else in the world. All designed by Kent Bergsma - Save $11.05 buying the collection!
This is a collection of SPECIAL tools Kent has put together to help you grab, twist, and pull on things in and around your Mercedes.  He makes each one of these tools right here in his shop. All have evolved out of a frustration at not have the right tool to work on stuck and hard to reach fuel hoses, coolant hoses, oil hoses and ignition wire leads. These can also prevent hurting your hands when holding on to tools and parts at the grinder, sander, buffer and when hammering. OH… that can hurt when you hit your hand or thumb.  Please click on each of the links below to get the full details on each product included in this collection.
Best Grabbing and Clamping Hand Tool Set in The World - Kent's Collection
$66.95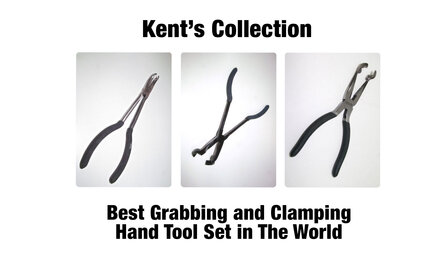 Product Details
Please see related products below for other special tools.
Related Products:
---