Covers most 1968 to 1995 models. Includes close ups and explanations of common trouble spots.
Does your rear end make funny noises while driving? Does the rear of your car sag in the back? Do you have excessive rear tire wear? Does the rear of your car feel like it is moving around? During heavy braking or rapid acceleration does your Mercedes want to steer right or left on its own!
Rear End Suspension Theory and Troubleshooting - On Demand Video
$4.99
Get it for Free! This is available as a free add-on item. Review the product details for bundle options.
On Demand Video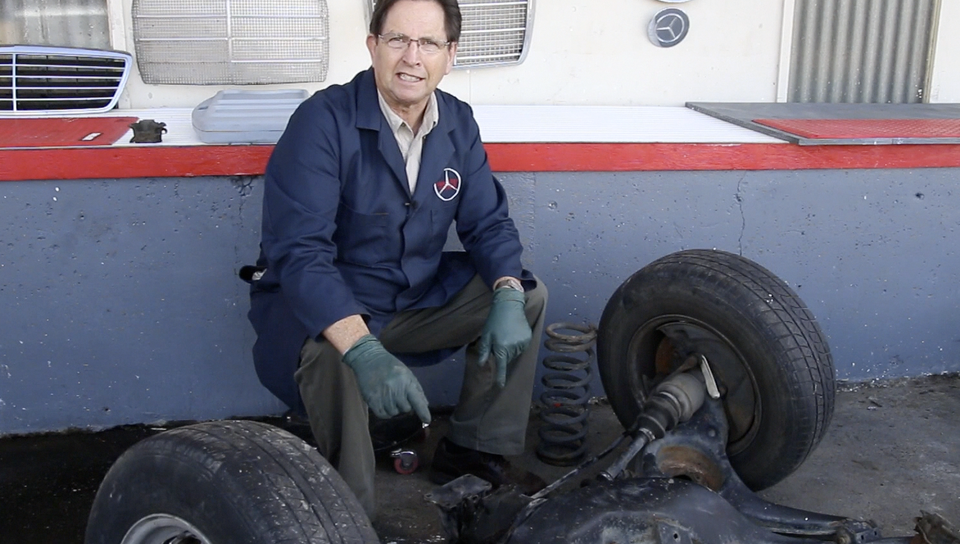 Product Details
In this on demand video Kent goes over the design of the two common rear suspensions built during the 1970's to mid 1990's. This includes the trailing arm rear suspension introduced in the 114 chassis and carried over in the 115, 107, 116, 123 and 126 chassis as well as the multi-link suspension on the 201, 124 and 129 chassis. He then goes into detail on what may be causing the above mentioned problems as well as what may have to be replaced to fix them.
This video does not cover the following: This is an overview and diagnostic video only. It does not cover any details on repairing or replacing worn or damaged rear suspension components. Please see related products for further help.
Total run time: 18:42
---
How to view this on-demand video:
Once you complete the purchase of this video you will be able to view it immediately when you are logged in and on your personal account page (click on My Account). The video(s) will show up under My Video Manuals. The video is NOT downloadable to your computer or mobile device, but you will be able to view it anytime, from anywhere and from any device as long as you have internet access and you are logged in to your account at mercedessource.com.
Important note: This video manual may or may not include all the information you will need to troubleshoot and/or repair your specific problem/s. Please read the full description carefully to determine if this video is applicable to your year and model and contains the information you are looking for. If not, please refer back to our "Solutions Finder" and enter your chassis number and the specific problem you are having to see if we offer a solution.
Related Products:
---